Best Way to Convert YouTube Music to Lossless WAV
The YouTube Music playlists are encoded in the AAC format, but it differs from the plain AAC format. YouTube Music content is encrypted, which lets you only play them within the YouTube Music app.
There are so many audio file formats exist, which come in all types and sizes. Each audio file type has unique benefits and drawbacks, almost all people only may be familiar with MP3, but what about WAV? Is it possible to convert YouTube Music to WAV? In this article, we'll gonna talk a little bit more about WAV, and introduce a very practical tool to download YouTube Music songs to WAV.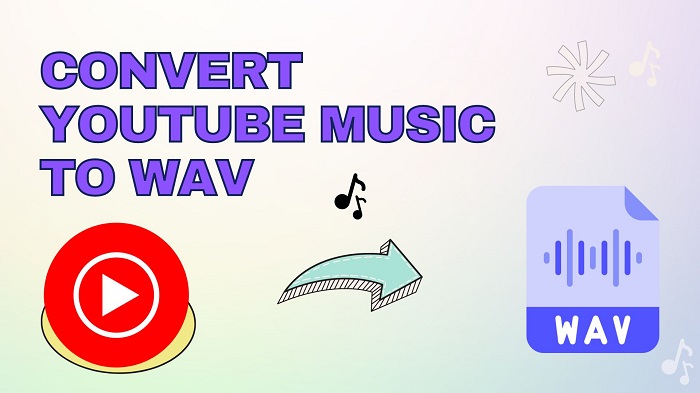 Part 1. Everything You Should Know About WAV Format
What is WAV?
WAV stands for Waveform Audio File Format. It's a standard that was developed by Microsoft, so it is typically used on Windows systems. WAV files are arguably the most popular uncompressed audio file formats, which are widely recognized as the most straightforward audio storage mechanism in the digital domain. They can store CD-quality or high-resolution audio files.
How to Open WAV Files?
Windows and Mac are both capable of opening WAV files. For Windows, if you double-click a WAV file, it will open using Windows Media Player. For Mac, if you double-click a WAV, it will open using iTunes or QuickTime. WAV files can be opened with several third-party software, such as VLC, Groove Music, Winamp, Clementine, XMMS, and more.
Why Choose to Use WAV?
There are some main reasons to use the WAV. First, if you need an audio file easily shared among different systems, the WAV is still a popular file. Secondly, recording studios often use WAV for their original tracks, that's because the WAV format retains all the quality of the original recording. It also allows the file to be shared and edited at its original rate. WAV files are widely used by all CD burners and some video editing tools, too.
One coin has two sides. WAV files also have disadvantages. WAV format is uncompressed, meaning huge file sizes (especially for hi-res files). It has poor metadata support.
Part 2. Practical Tool to Convert YouTube Music to WAV
Read the introduction, you must have a certain understanding of the WAV format. Thus, you may prefer to choose WAV to save YouTube Music songs. Since YouTube Music songs are protected, you can't get WAV files from YouTube Music directly. For that, you may need a YouTube Music to WAV Converter. Here Macsome YouTube Music Downloader is strongly recommended for you.
It is a smart YouTube Music to WAV Converter. With it, you can download YouTube Music to WAV, MP3, AAC, FLAC, AIFF, and ALAC with original quality. This program is specifically designed for both YouTube Music Free and Premium users, which allows any YouTube Music users to download YouTube Music songs, albums, or playlists to their computer locally. Therefore, YouTube Music Free users are perfectly capable of playing YouTube Music songs on any WAV-supported devices or music players offline at will.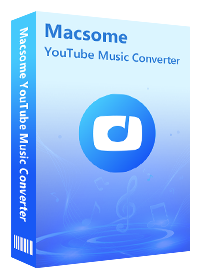 Key Features of Macsome YouTube Music Downloader
Convert YouTube Music to WAV / MP3 / AAC / FLAC / AIFF / ALAC.
Support to download YouTube Music tracks, albums, and playlists.
Support to download YouTube Music with a Free account.
Support batch conversion and up to 10x faster conversion speed.
Keep high output quality and ID3 tag information after conversion.
Transfer YouTube Music to USB, SD card, iPhone, Apple Watch, etc.
Step by Step Guide to Convert YouTube Music to WAV Files
In the following step-by-step guide, you will learn how to convert YouTube Music to WAV with Macsome YouTube Music Downloader.
Step 1. Launch Macsome YouTube Music Downloader
Click on the "Download" button above to get Macsome YouTube Music Downloader on your Windows or Mac. Install and launch it, the YouTube Music web player will start at the same time.
Step 2. Log in to YouTube Music Web Player
Follow the on-screen tips to log in with your YouTube Music account. Once you have logged in to your account, you'll see the YouTube Music web player's main interface.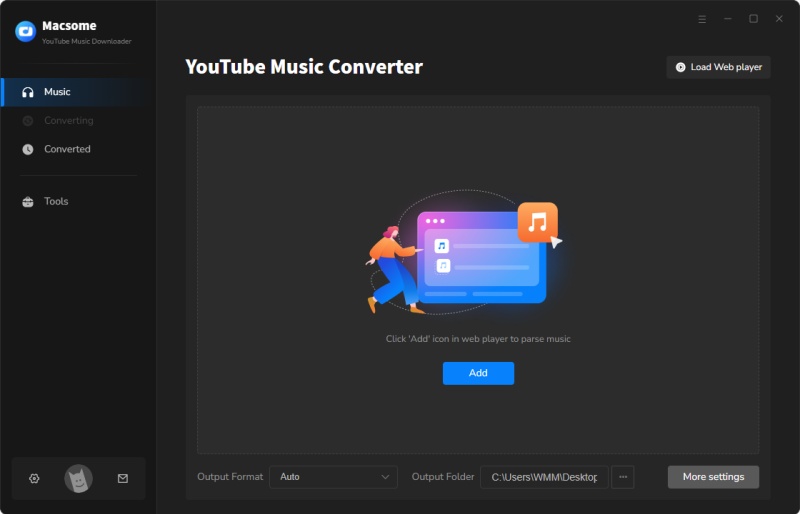 Step 3. Choose WAV as the Output Format
This step is very important. Hit on the in the lower left corner. From the pop-up window, you can choose WAV as the output format. Besides, you can also customize other settings parameters, such as bit rate, sample rate, output folder, and more. After all these settings, close the window and this change take effect.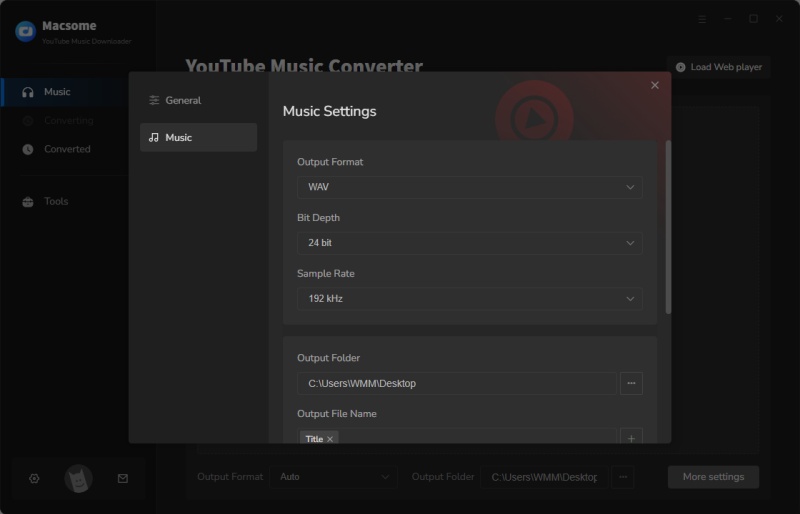 Step 4. Select Your Preferred Songs or Playlists
Go to select tracks, albums, or playlists you want to download to WAV, tap the "Click to add" button. Check the tracks you'd like to download from the pop-up window.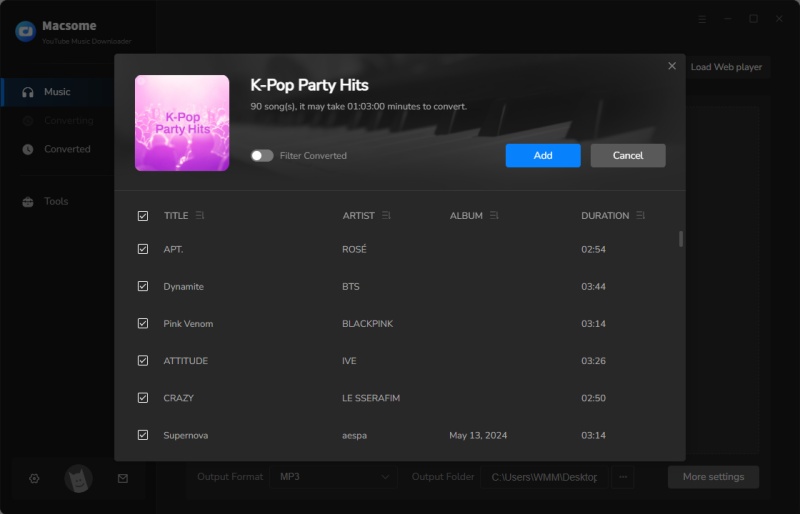 Please Note: If the selected YouTube Music songs include the Music Videos, switch on the "Also download the music video (If provided))" option, and then the Music Videos are also downloaded along with the tracks. The downloaded Music Videos are saved as MP4 with up to 4K quality.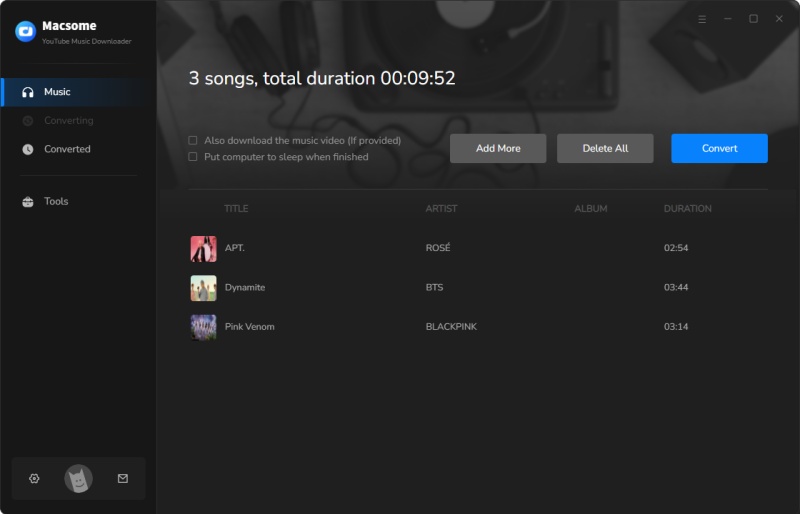 Step 5. Start to Convert YouTube Music to WAV
Finally, click the "Convert" button, and your preferred songs or playlists will be automatically downloaded to your computer.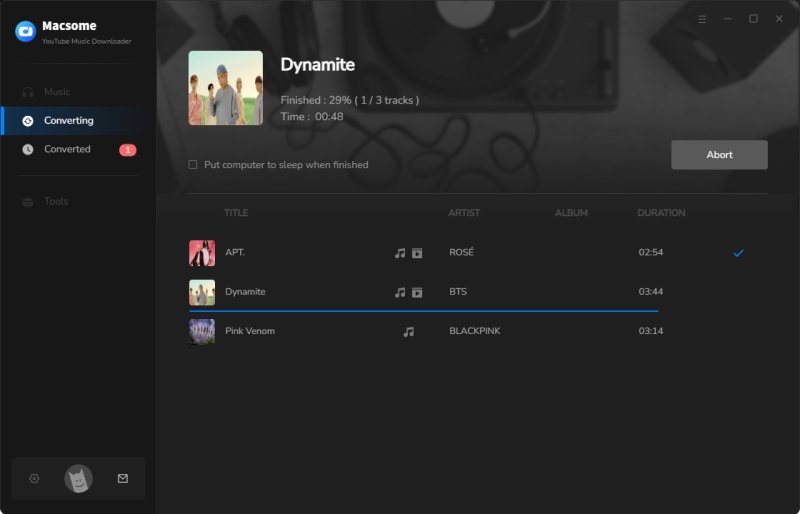 When the conversion is done, go to the "Converted" option, you can find the converted YouTube Music list here. Click the "folder" icon to locate the converted YouTube Music WAV songs on your local computer.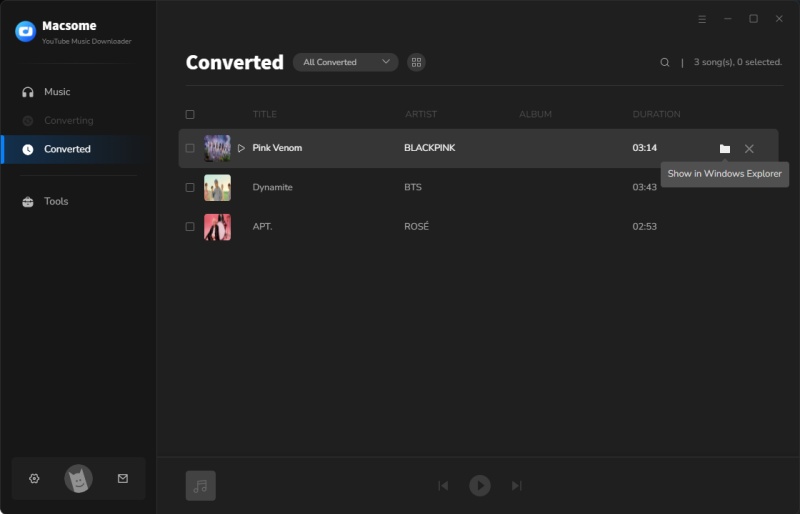 Conclusion
If you have the idea of converting YouTube Music songs to WAV, don't miss Macsome YouTube Music Downloader, for it is a worthy tool. By using it, you can download songs from YouTube Music to lossless WAV files, even if you are a YouTube Music Free user. In this way, you are able to transfer YouTube Music on Apple Watch, iPod, Sony Walkman, and other portable devices. You can also play these WAV files using common music players, including VLC media player, Windows Media Player, QuickTime Player, iTunes, and many more.
Owing to it occupying too much space, you may not be satisfied in WAV format. You can also try to download YouTube Music to MP3, AAC, or other formats. Macsome YouTube Music Downloader supports a free trial version, which allows you to convert 1 minute of each song for sample testing. Please do not hesitate and have a free trial. To unlock this restriction, please purchase a license.