How to Download Tidal Music on Your Computer
'Can you download tidal songs to your computer for offline listening? How to download songs from Tidal on Tidal Desktop? Can't you download songs on desktop? TidaL'
Tidal is a Premium music streaming subscription service. It is the first global Premium music streaming service, which offers songs in hi-fi quality. You can try 30 days free and cancel at any time. If you get a Tidal subscription, you have access to over 90 million tracks worldwide and enjoy CD-quality audio for a superior music experience. What's more, Tidal allows you to download songs to your phone and play them back anytime, even if you are in Airplane Mode or if you don't have Wi-Fi and would prefer not to use your cellular data plan to stream audio.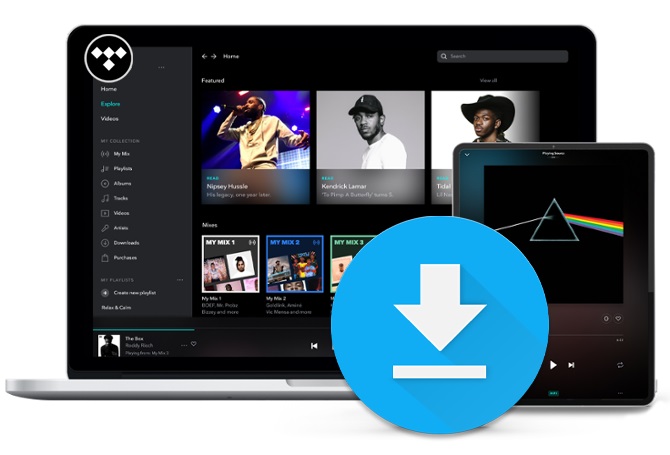 Tidal offers mobile and desktop applications, it's accessible on a wide variety of devices, including computers, smartphones, tablets, smart speakers, and platforms like Apple TV and Android TV. However, you can only download albums or playlists, not individual tracks from Tidal using a mobile app on your phone, you can't download Tidal songs on your computer. If you want to download music from Tidal and enjoy them offline, how to do?
Is There Any Way to Download Music from Tidal on the Computer?
There are two ways to download Tidal music on your computer.
On one hand, you can purchase the specific songs from Tidal store. Besides streaming service, Tidal has a music store that sells downloads of songs and entire albums. Just create a free Tidal account, you can buy music via the Tidal Store, and each album or track can be downloaded as a 320Kbps MP3, or lossless FLAC 16bit/44.1kHz. Once your purchase is complete, you will be emailed a copy of your album to download straight to your PC. This is a one-time-use link and will expire after the files have been transferred to your computer. If you would like to transfer your purchase to your mobile device or external drive, you can copy the files directly from your computer.
On the other hand, you can use a third-party program like Macsome Tidal Downloader. It is a professional Tidal Music Converter. With Tidal Web Player embed, you don't have to install Tidal client on your desktop. Just log into Tidal account, you can easily download single track, playlist and albums from Tidal and convert Tidal songs to MP3, AAC, FLAC, WAV, AIFF and ALAC with ID3 tags kept. And then, you can save the downloaded Tidal music files on your computer. Just follow the step-by-step guide to learn how to download music from Tidal onto computer by using Macsome Tidal Downloader. Before started, please download, install and launch it on your pc.
Step-by-step Guide to Download Tidal Music on Your Computer
Step 1. Log into your Tidal account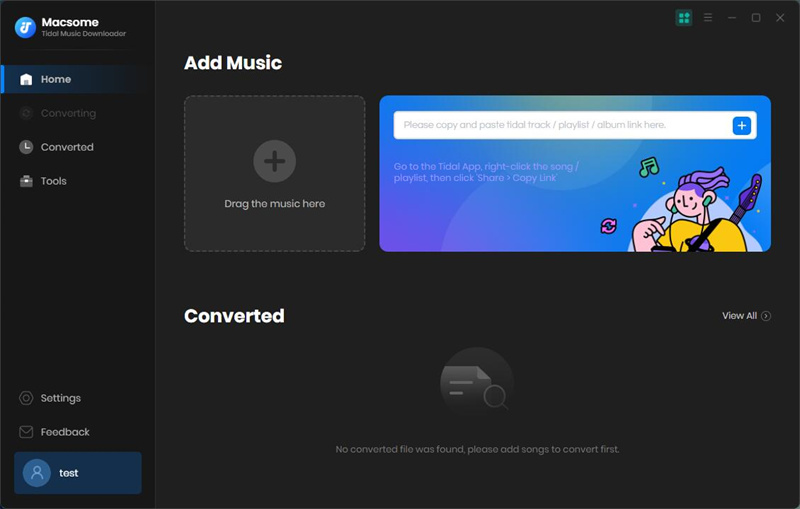 Step 2. Set the Output Formats and Other Parameters
Click on the icon at the top right-hand corner of interface, and you will see the Settings pop-up window. Now you can select the output format, output quality or output folder as you need.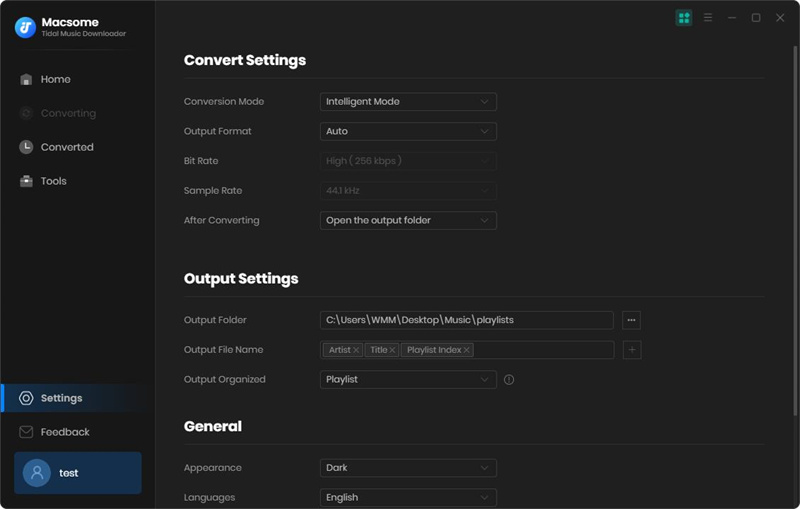 Step 3. Add Tidal Music and Playlists
Open a track, album or playlist, then you can click Add to list button to add the music you want to convert.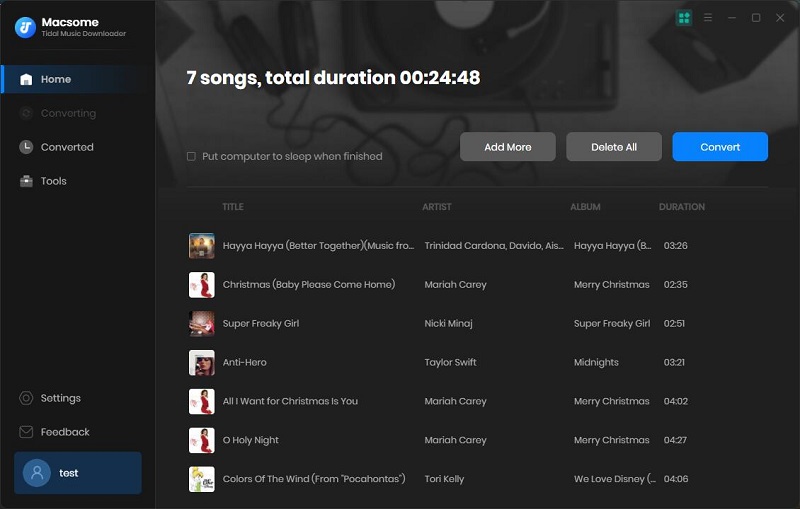 Step 4. Start Tidal Music Conversion
Click Convert button to start converting the Tidal music to the output format you chosen.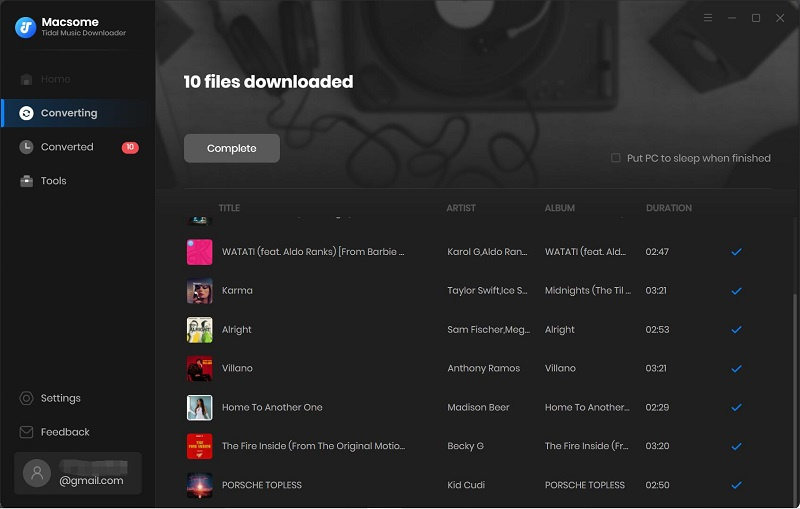 When the conversion finished, you can find the downloaded Tidal songs by clicking the icon. Now you have downloaded Tidal music on your computer successfully. And then you can play these Tidal songs offline, or transfer them to any devices you have.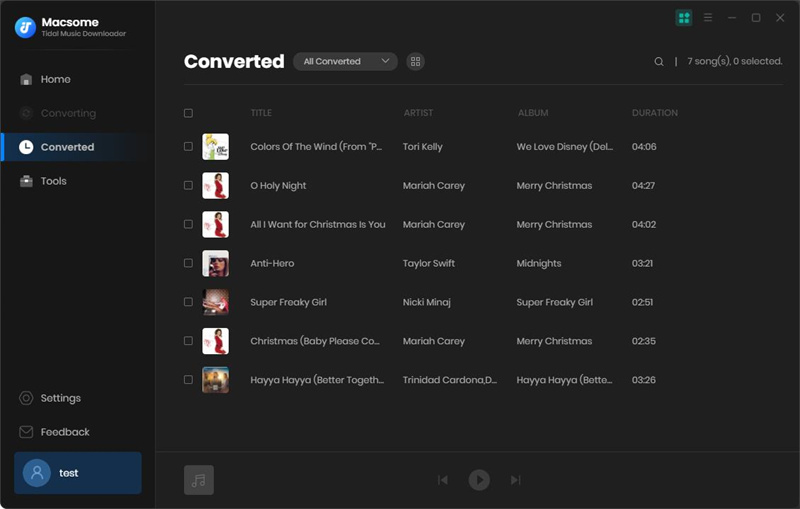 Summary
Thanks to Macsome Tidal Downloader, you can download any music from Tidal with High Fidelity (HiFi) Sound Kept. Even you decide to cancel your Tidal subscription, you can also keep Tidal music and listen to them offline. Macsome Tidal Downloader offers a free trial version, which lets you download 3-minute of each Tidal track. Don't hesitate, give it a trial.