How to Set Tidal Music as iPhone Ringtone
Are you fed up with the default set of ringtones on your iPhone? Wondering how to make unique ringtones to let you know who is calling? Let's make the custom iPhone ringtones!
Purchasing the ringtones from iTunes Store is the most obvious way. But if you're not keen on spending the money, you have to find other music resource to make a tone by yourself. Music streaming services are more and more popular nowadays. Among them, with over 100 million tracks, Tidal, the first global music streaming service with high fidelity sound, is a great choice.
Why Can't Set Tidal Music as a Ringtone for iPhone?
However, when it comes to setting Tidal Music as iPhone ringtone, you may not know where to begin. Because Tidal has its limitations. If you have an active Tidal subscription, you can stream audio using the lossless format FLAC for offline listening. It should be noted that these streaming audio files are cached and can only be able to play within Tidal application. It is impossible to export these streaming content on other apps and devices. And iPhone doesn't recognize the FLAC cache file as ringtone either.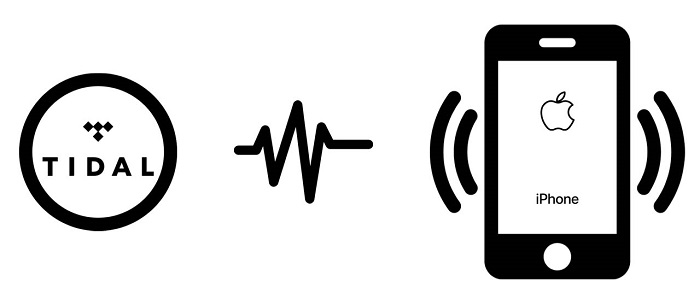 Thankfully, there are other ways to make Tidal music as ringtones for iPhone. You can convert Tidal Music to plain formats such as MP3 or AAC, which can be edited or transferred, so that you can make it to iPhone ringtone. The following guidance will introduce how to make an iPhone ringtone with Tidal Music from two parts.
Part 1. Download Tidal Music to MP3 or AAC for iPhone Ringtone
In order to download Tidal music, Macsome Tidal Music Downloader is highly recommended for you. It not only enables you to download track, album and playlist from Tidal, but also can convert Tidal Music to iPhone supported formats, like MP3, AAC, WAV, etc. with up to hi-fi output quality. What's more, you can get the downloaded Tidal music in a faster speed and with ID3 tags kept, including title, artist, album, track number, and other information.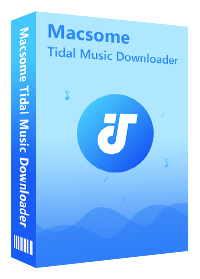 Why Choose Macsome Tidal Music Downloader
Easily download Tidal tracks, album and playlist.
Convert Tidal to MP3, AAC, WAV, FLAC, AIFF, ALAC.
Retain original audio tracks and ID3 tags preserved.
Convert Tidal songs with hi-fi output quality kept.
Save Tidal music to computer, iOS or Android devices.
No need to install Tidal application separately.
Up to 10X faster conversion speed.
Free updates and technical support.
Simple, concise, and user-friendly.
Download
&nbsp &nbsp &nbsp &nbsp
Download
Macsome Tidal Music Downloader is compatible with both Windows and Mac platforms. With an embedded Tidal Web Player, you don't have to install Tidal app separately. Just with an active Tidal subscription, you can download Tidal Music to MP3 or AAC on your computer easily. Please just refer to the following steps.
Step 1. Sign into Your Tidal Music Account
Download, install and run Macsome Tidal Music Downloader on your computer. Please use your account to login Tidal Web Player, there's an initial step required only the first time you use the program.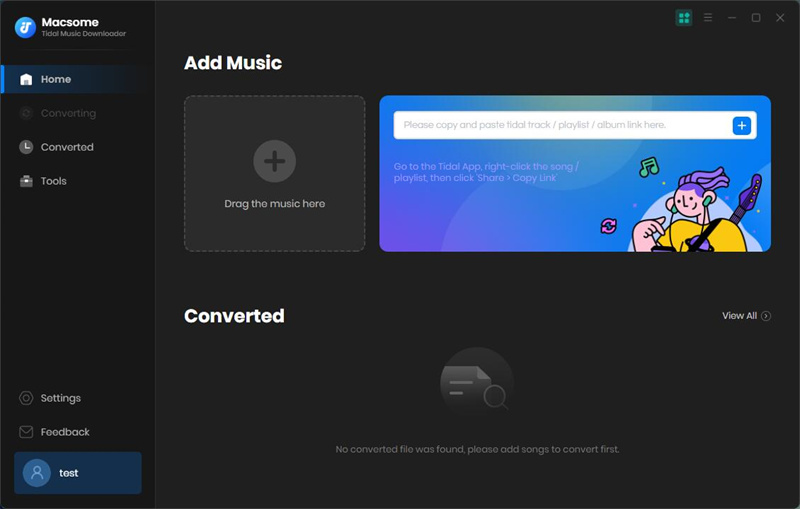 Step 2. Set the Output Formats for iPhone
Click on the "Settings" at the lower-left corner of the main interface. The default output format is Auto, which means the output format and quality are consistent with the source file.
Besides, Macsome Tidal Music Downloader can support MP3, AAC, WAV, FLAC, AIFF and ALAC audio formats to choose. If you want to create ringtone for iPhone, you can set MP3 or AAC as the output format.
On the other hand, Macsome also offers many other options to make the output files meet your requirements better, such as you can set the output quality up to 320Kpbs, and change the output folder to save the downloaded Tidal songs as you need.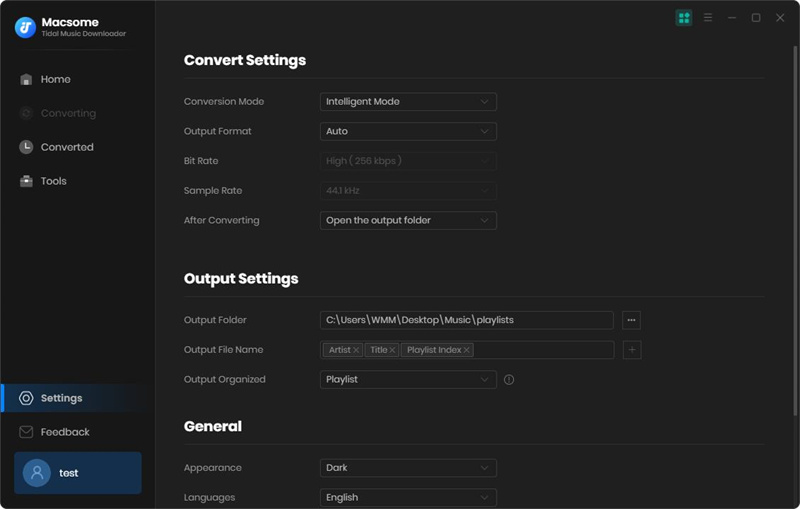 Step 3. Add Tidal Music and Playlists to Download
It is easy to import Tidal music, just search for the album or playlist you'd like to download and click it. Then you will see the "Click to add" button becomes available. Hit it, all the songs in the playlist or albums will be loaded and checked by default.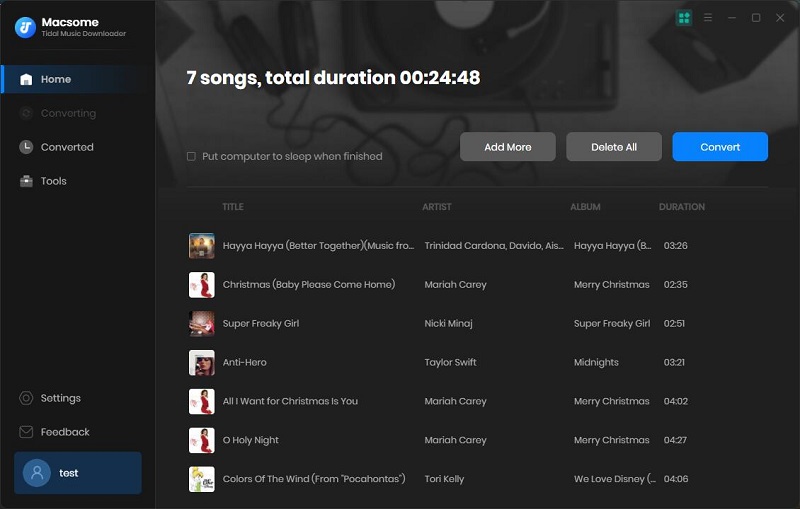 Step 4. Start to Download Tidal Music
Uncheck the songs you don't want. Click the "Convert" button, the program will start downloading Tidal Music songs process. Once the conversion completed, you can locate the downloaded Tidal Music files by clicking the "Converted".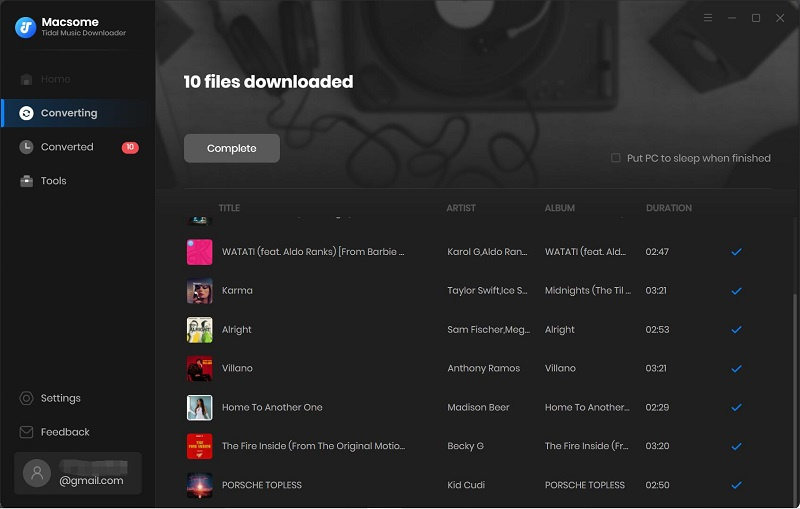 Part 2. Make Your Custom iPhone Ringtone from Tidal Music
Now that you have the real Tidal track downloaded on your computer, you have the ability to make it into a custom ringtone for your iPhone. Here's how.
Method 1. Set a Tidal Song as iPhone Ringtone with Syncios Mobile Manager
There are several free ringtone apps that give you the opportunity to quickly create new ringtones. Syncios Mobile Manager is an all-in-one free iPhone Ringtone Maker for you. With it, you are able to make any part of your favorite audio files into an iPhone ringtone. There is no need to buy ringtones for iPhone, and now you can make the downloaded Tidal music files as iPhone ringtones for free. Let's get started.
Step 1. Start Syncios and plug the iPhone to your PC (or Mac). Click Toolkit menu on the top of window, you will find Ringtone Maker on the left.
Step 2. Now drag and drop the downloaded Tidal music file to the panel. Alternatively, you can also click on Choose button, then import the downloaded Tidal songs you'd like to make to a ringtone.
Step 3. Choose specific part of the Tidal track and make it as your iPhone ringtone. Just start playing the track, then click Set start button and Set End button to adjust the tong length.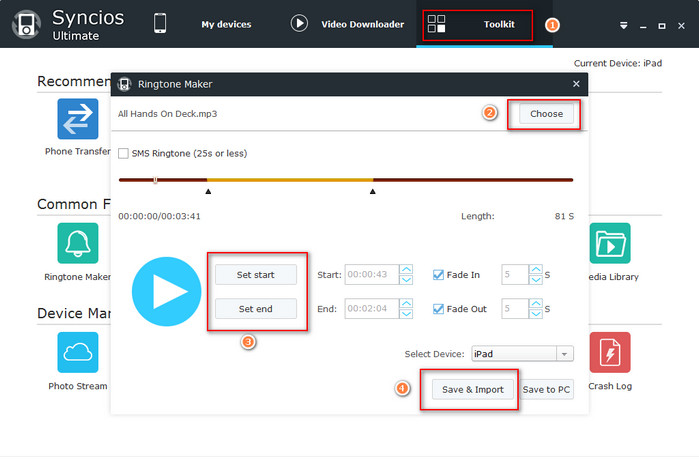 Step 4. You can export the track segment to your iPhone directly by clicking the Save & Import button.
Step 5. When it's done, you can head into the settings and select the new Tidal ringtone for your iPhone. On your iPhone, click Settings - Sounds - Ringtone, then you would find the ringtone file you currently imported and set it as your ringtone.
2. Create Tidal Music as an iPhone Ringtone using iTunes
The other approach is to create the downloaded Tidal track as an iPhone ringtone using iTunes. At first, please make sure that you have installed the latest version of iTunes on your computer. Follow these steps below, you'll know how to do.
Step 1. Import the downloaded Tidal music to iTunes.
Open the iTunes app on your PC, choose File - Add File to Library or Add Folder to Library. Locate the downloaded Tidal music files folder, then click Open. If you add a folder, all the songs it contains are added to your library.
Step 2. Shorten the song within 30 seconds.
Select the song you want to make an iPhone ringtone in iTunes library, right-click it and choose Get Info. Turn the Options tab from the pop-up window. Now you can adjust the start time and finish time of song. Keep it under the 30 seconds. You can play it back to make sure it's the part of the song you really want. Then click OK at the right bottom.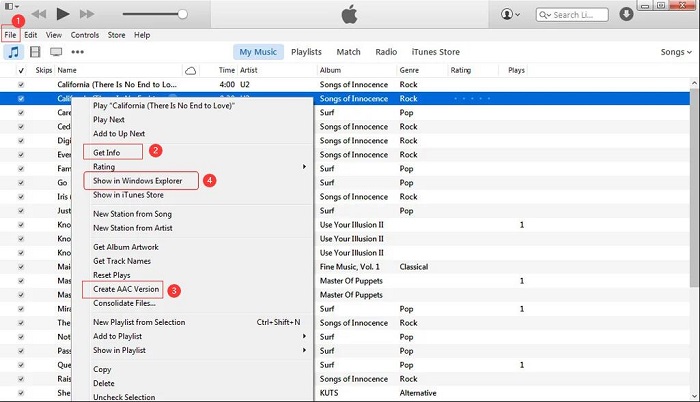 Step 3. Create AAC Version.
Right-click on the song again, and select Create AAC Version in the drop-down menu. iTunes will immediately convert the 30-second audio clip you just chose to create.
Step 4. Find the AAC Version in iTunes Folder.
After creating the AAC version of the song, you will find the songs you created in iTunes library. Right-click the song and choose Show in Windows Explorer.
Step 5. Change the track extension into .m4r.
After locating the file in iTunes folder, you will find that the song is an M4A file. You should right-click the file and rename the file extension into .m4r.
Step 6. Sync the Ringtone to iPhone.
Now you can sync your created ringtone to iPhone with iTunes. Plug in your iPhone into your computer, you will see the iPhone pop up in the left sidebar of the screen. Select Tones under your device. Check Sync Tones in the right part, and click Sync at the right bottom.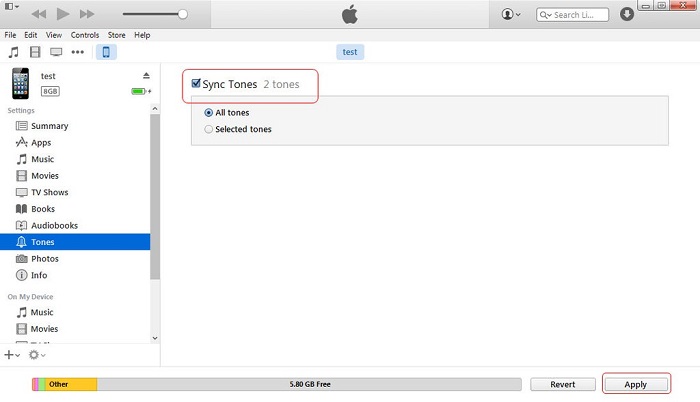 When the sync is done, under Settings of your iPhone, choose Sounds and scroll down to Ringtone, you should see your added ringtone.
By the way, iPhone lets you set unique ringtones to identify particular friends and family members, just open the Contacts app, choose an entry, and tap Edit. Select either Ringtone to make changes.
Conclusion
Thanks to Macsome Tidal Music Downloader, you are able to download music from Tidal and create Tidal Music as iPhone ringtone with no limits. Therefore, you can set the personalized ringtone or notification for your iPhone.
In addition, this powerful Tidal Music downloading tool can help you transfer Tidal Music to iPod, iPad, Apple Watch, Xbox One, PS4 or other devices for offline playback. Macsome has a free trial version. Download it and have a try by yourself.