Comprehensive Method to Play Tidal Music on Alexa
Tidal and Amazon Alexa? Hey guys, just started my Tidal trial because I decided to take the dive and see what the streaming service has to offer! However, when I tried to link my amazon alexa with my subscribed Tidal account, theres no option for me to select Tidal as a new linkable service in the Alexa app. Any help? I'm situated in Canada. Unsung_Name asked on Reddit.
Tidal music streaming is now available on Alexa-enabled devices. Amazon Echo owners who also have a Tidal subscription can now play Tidal music to any Alexa device with a quick voice command. However, Tidal is only available in the United States on Alexa. That means you need an U.S. account so that you are able to stream Tidal music to any Alexa device in your home.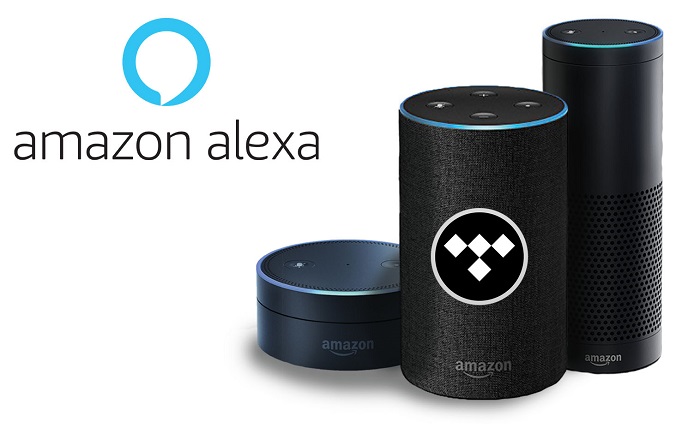 If the Tidal on Alexa is not currently supported in your region, is it still possible to play Tidal music on Alexa? In fact, there is no official way yet. Alternatively, you can draw support from some third-party tools. In this article, we will introduce a simple method to help you enjoy Tidal music on your Alexa-enabled device. If you are new to Tidal or Alexa and have no idea on how to play Tidal music with Alexa, please read the following tutorial carefully.
Shortcuts to Play Tidal Music on Alexa
Part 1. How to Get Tidal on Alexa Anywhere - Tool Required
Amazon's Echo smart speakers are best known for the Alexa assistant that powers them, but they can also serve as a regular Bluetooth speaker to play music and other audio files from your smartphone, tablet and other Alexa-compatible devices. That's to say, if you are able to download music from Tidal and transfer them to your phone or tablet, then you also have the possibility to get Tidal music playback on Alexa with no geographical restrictions.
Due to the features of Tidal streaming music, you can't transfer music from Tidal music app. To do this, you need a third-party tool. Macsome Tidal Music Downloader is strongly recommended for you. It is specially designed for Tidal subscribers to download Tidal track, album or playlist to local files with common audio format, including MP3, AAC, WAV, FLAC, AIFF and ALAC with hi-fi audio quality.
What's more, you don't have to install Tidal app on your computer, just sign in Tidal Web Player with your Tidal account, you can easily download Tidal tracks, albums and playlist on your computer at up to 10X faster speed. It also allows ID3 tags information such as the title, artist, album, track number, and other information to be stored in the downloaded Tidal Music file.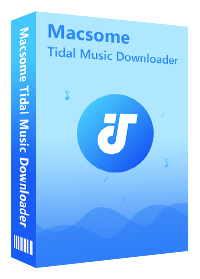 Why Choose Macsome Tidal Music Downloader
Easily download Tidal tracks, album and playlist.
Convert Tidal to MP3, AAC, WAV, FLAC, AIFF, ALAC.
Retain original audio tracks and ID3 tags preserved.
Convert Tidal songs with HiFi output quality kept.
Save Tidal music to computer, iOS or Android devices.
No need to install Tidal application separately.
Up to 10X faster conversion speed.
100% clean and safe.
Free updates and technical support.
Simple, concise, and user-friendly.
Macsome Tidal Music Downloader is compatible with both Mac and Windows platforms. You can download it according to the operating system you have. Then you are able to download Tidal music on your computer by following these steps. We are gonna use Windows version as an example.
Step 1. Run Macsome Tidal Music Downloader
Install and run Macsome Tidal Music Downloader on your computer, you will see its simple user interface. You don't require installing Tidal music app, just press Log in button to sign in to Tidal web player.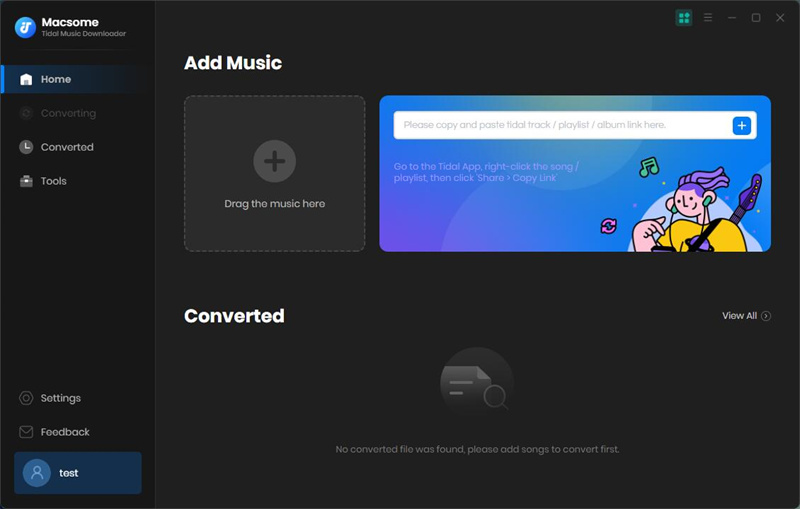 Step 2. Set the Output Format and Output Folder
Click on the "Settings" at the lower-left corner of the main interface. Macsome Tidal Music Downloader offers MP3, AAC, WAV, FLAC, AIFF and ALAC six output formats for you choose.
To make Tidal music playback on your devices through Alexa normally, we suggest you set MP3 as the output format. In addition, you can also custom the output folder settings to save the downloaded Tidal music.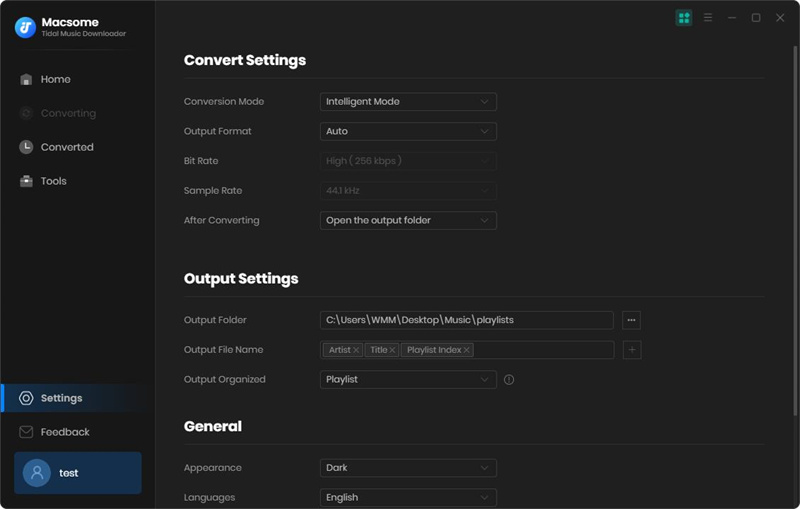 Step 3. Add Tidal Music and Playlists to Download
Open a track, album or playlist, then you can click Add button to add the songs you'd like to download. Macsome supports the batch conversion, which lets you download a single track or a whole playlist at the same time.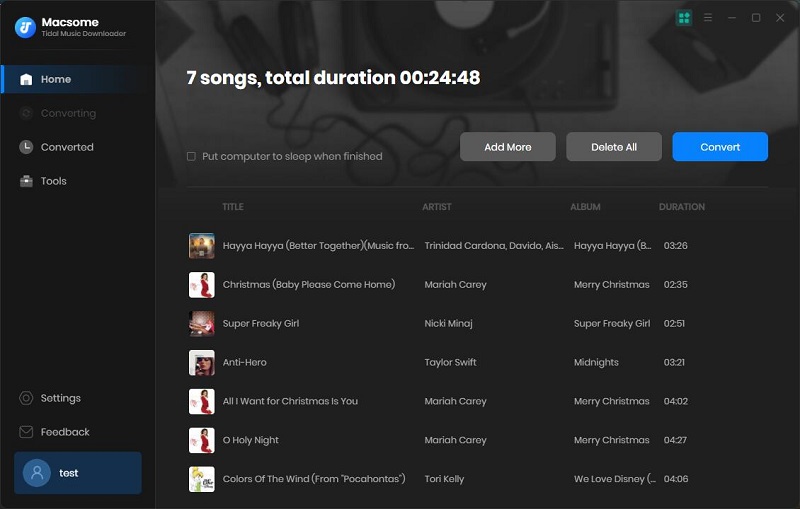 Step 4. Start to Download Tidal Music
Simply click Convert button, the program will start to download Tidal Music songs automatically. When the conversion is completed, the downloaded Tidal Music will be stored in the destination folder on your computer.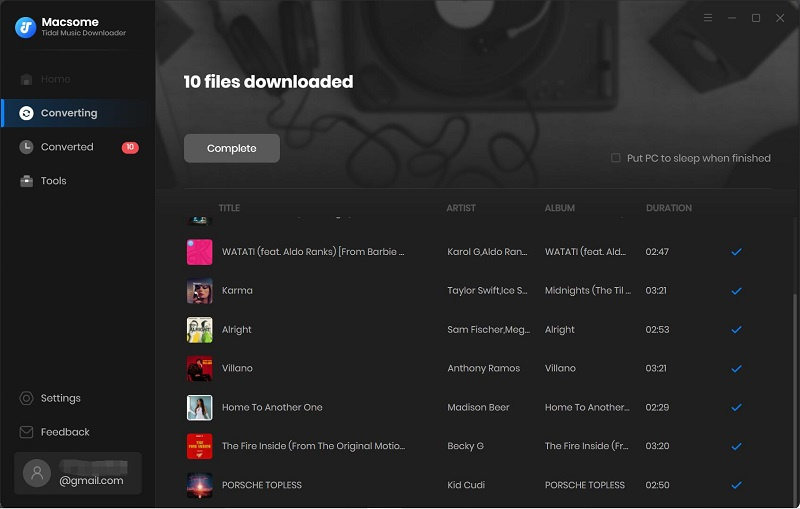 Step 5. Transfer the Downloaded Tidal Music to Your Phone
The downloaded Tidal songs will be saved on your computer successfully, even you cancel Tidal subscription afterwards. Now you can transfer the downloaded Tidal Music to your device.
Android: Connect your device to computer using a USB cable. Locate the downloaded Tidal music files on your computer and drag them into your device's Music folder.
iPhone: Now connect your iPhone to computer, you can use iTunes or Syncios Manager (recommended) to sync the downloaded Tidal music to iPhone. Syncios will identify your iPhone automatically. Choose "Music" on the left hand toolbar and then you can click "Add" to transfer local Tidal music to your iPhone from computer easily!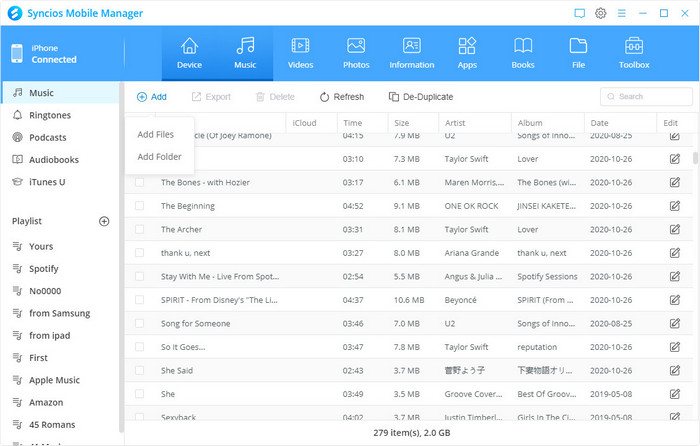 Part 2. Play Tidal Music on Alexa from Your Phone via Bluetooth
Given that you have the downloaded Tidal music songs on your phone. Now, you can play Tidal music from your mobile phone on your Echo using it as a Bluetooth speaker. It's easy to do this:
Step 1. Put Your Bluetooth Phone in pairing mode.
At first, please turn on your phone's Bluetooth and you're in your Bluetooth pairing screen.
Android: Open Settings - Connections - Bluetooth, toggle Bluetooth on (if it isn't already), tap "Scan" or "Pair new device" (whatever your particular Android version says).
iPhone: Open Settings - Bluetooth, toggle Bluetooth on (if it isn't already), scroll down to the bottom where it says "Other Devices".
Step 2. Set up Amazon Alexa app on your phone.
Download Amazon Alexa app: Open the app store compatible with the phone device, search for Amazon Alexa app, and then follow on-screen instructions to complete Alexa App installation on your mobile.
Set up Amazon Alexa app: To get everything set up, open up the Alexa app and log in using your existing Amazon account information. Select your name from the list under Help Alexa Get to Know You. Tap Allow or Later if Amazon asks permission to upload your contacts.
Step 3. Pair with your Echo.
Tap Devices at the bottom of the Alexa app and then tap Echo & Alexa. Now, select the Echo you're trying to pair to. Tap Bluetooth Devices.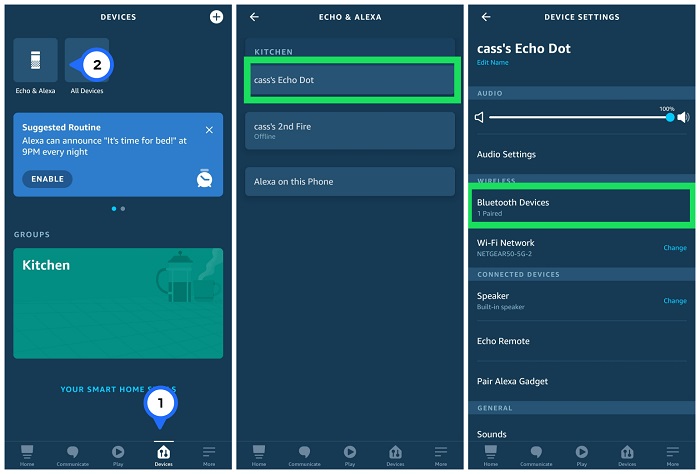 Alternatively, make sure you're within range of your Amazon Echo, Just say "Alexa, pair" or "Alexa, Bluetooth on", and it should start pulsing its blue light and searching. This is equivalent to putting a Bluetooth device into pairing mode.
Once you've done this, the Echo should appear in the list on your phone screen. Tap on its name in the list, and confirm pairing.
Step 4. Start to play the downloaded Tidal Music via Alexa.
Alexa will let you know when it has successfully connected to your device. After that, you just select the Tidal Music from your phone and it will play through the Amazon Alexa. Alexa supports basic audio commands when acting as a Bluetooth speaker, so you can say "Alexa, pause", "Alexa, next" or "Skip this song" to control playback without lifting a finger.
Part 3. How to Connect Tidal Music to Amazon Alexa
As mentioned above, Tidal streaming service is now available on all Amazon Alexa devices in the US. If you are US users and would like to listen to music through favorite streaming music service like Tidal, you will first need to connect Tidal account with the Alexa app, an active subscription to Tidal is required (naturally).
1. Connect Tidal with Alexa: Open the Amazon Alexa app on your phone, go to the menu, navigate to Settings and scroll down until you hit Music & Podcasts. Find and tap Link New Service, you'll see a list of supported streaming services from the next screen. Find and tap TIDAL. When you click Enable to Use, Alexa will redirect you to a login page. Simply sign in using your Tidal account.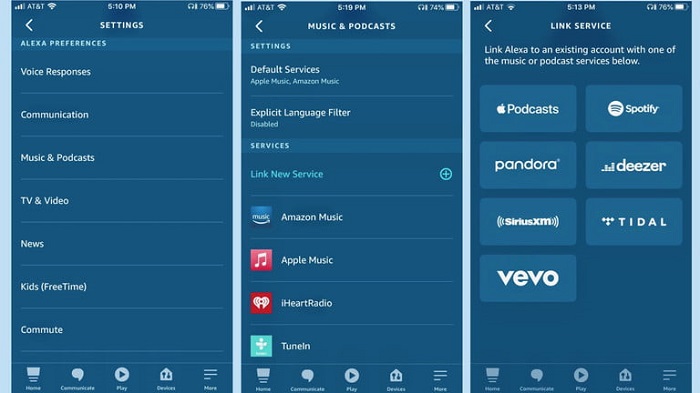 2. Listen to Tidal Music through Alexa: Now that you're all set up, it's time to ask Alexa to play Tidal music for you. Here are a few examples of what you can ask for:
"Alexa, shuffle" or "stop shuffle".
"Alexa, stop" or "pause."
"Alexa, play" or "resume."
"Alexa, play [song/album/artist]."
Conclusion
If you want to play Tidal music on Amazon Alexa, first, you need to link Tidal streaming service to your Alexa device. Please note that TIDAL is only available for Alexa in the United States.
Here's an alternative. Stream the downloaded tidal music directly from your phone. But this need a third-party tool - Macsome Tidal Music Downloader. It is convenient to download music or playlist from Tidal so that you can transfer Tidal audio files to your phone easily. Thus, you are able to listen to Tidal music on Alexa without any limitations.
Macsome Tidal Music Downloader has a free trial, which lets you convert 1-minute of each track. If you are interested in this efficient program, please do not hesitate to try it.