Three Methods to Play Tidal Music on Apple TV
Tidal is a digital music streaming service that gives you access to over 100 million tracks. It is the first service to offer high-fidelity sound and hi-def video at lower monthly fees. Tidal is available across a wide range of devices such as Mac and PCs, iOS and Android devices, Sonos, Naim, Denon, and so on. Tidal has also expanded into Apple TV and Android TV apps and Apple CarPlay.
Apple TV is most known for streaming movies and television shows. It can not only allow you to stream video from iTunes, Amazon Prime Video, ESPN, Hulu, Netflix, and other video streaming services, but can also be used to stream music and radio from different music streaming apps, including Apple Music, Spotify, Tidal, etc., and listen to your music collection.
From the 4th generation, Apple TV features an App Store and native, built-in support for the Tidal app. That's to say, the Tidal app is only available on Apple TV 4th generation or newer streaming boxes. In that case, how to play Tidal on the Apple TV older generations? Not to worry, the purpose of this article is to show you how to play Tidal music on Apple TV in different ways.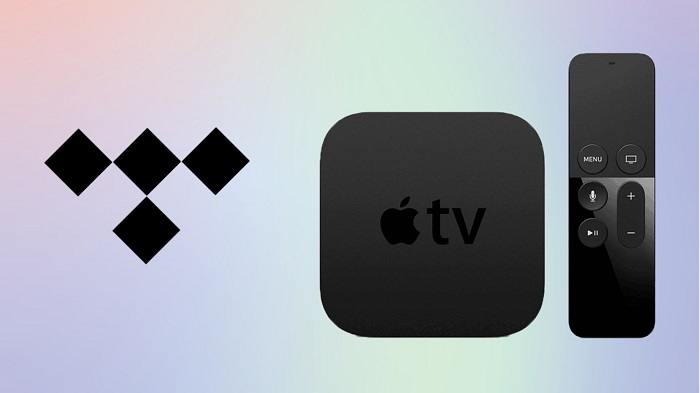 Method 1. How to Play Tidal Music on Apple TV Directly
Tidal has announced the launch of its official tvOS app for Apple TV, which lets subscribers listen to Tidal's entire library of music along with video content like concerts, live streams, and music videos directly on their connected TV. The Tidal TV app works with the fourth generation or later Apple TVs, and is available in the tvOS App Store.
With the following tips, you can learn how to connect Tidal to Apple TV and listen to Tidal songs on Apple TV.
1. Turn your Apple TV on, and go to the App Store from your Apple TV home screen. Search for the Tidal app, then install, and launch it.
2. Go to link.tidal.com on your computer or smartphone.
3. Log into your existing Tidal account, or sign up for Tidal if you don't have one.
4. Enter the code displayed on your TV to link it to your account and begin streaming the Tidal songs on the TV.
Method 2. Get Tidal on Apple TV 1st, 2nd, or 3rd Generation with AirPlay
Only the Apple TV (4th Gen or later) can download the Tidal app, but older Apple TV models don't have App Stores, and that aren't pre-installed on the system. Instead, you can stream music through the AirPlay feature. If you play Tidal music audio files on your iPhone or iPad with iOS 11.4 or later, you can use AirPlay to stream Tidal music to your Apple TV. Here are the steps that you should follow for it.
1. First, download and install the Tidal app on your iPhone or iPad. And please make sure that your iOS device and Apple TV are connected to the same Wi-Fi network.
2. Open the Tidal app and log into your Tidal account, then select the tracks you'd like to play.
3. Once the song starts playing, you will see the "AirPlay", which looks like a speaker in front of a computer monitor, tap it, and you can select Apple TV from "More Devices". Now you can see that Tidal music is playing on your TV.
Method 3. Alternative Method to Stream Tidal Music to Apple TV
The first method demands newer Apple TV models, and the second one requires your devices running iOS 11.4 or later. With a Tidal subscription, you can download Tidal music to play them within the Tidal app for offline listening. If you cancel your subscription, you can't keep playing Tidal music offline on Apple TV. Never mind. In this section, we'll provide an alternative method to help you listen to Tidal on any Apple TV model even if you cancel your Tidal subscription.
Macsome Tidal Music Downloader is an efficient and professional tool. If you simply want to download music from Tidal without having to install the Tidal app, this will be the option for you. You can download Tidal songs, playlists, and albums to Apple TV supported formats. In this way, you can sync the downloaded Tidal Music files to Apple TV at will.
In addition, Macsome Tidal Music Downloader enables you to convert Tidal music tracks to MP3, AAC, WAV, FLAC, AIFF, and ALAC with lossless output quality. All the ID3 tags including title, artist, album, artwork, year, etc. are preserved. Whether you are a Tidal HiFi subscriber or a free user, you can download content from Tidal and play Tidal music on Apple TV without any limitation.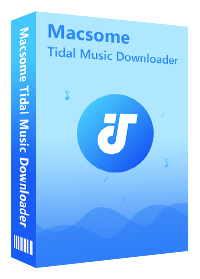 Main Functions of Macsome Tidal Music Downloader
Easily download Tidal tracks, albums, and playlists.
Convert Tidal songs to MP3, AAC, WAV, FLAC, AIFF, and ALAC.
Retain original audio tracks and ID3 tags.
Download Tidal music with HiFi output quality kept.
No need to install the Tidal application separately.
Play Tidal on Apple TV, Android TV, Sonos, Speakers, etc.
3.1 How to Download Tidal Music to Apple TV
First of all, download and install the latest version of the Macsome Tidal Music Downloader on your Windows or Mac computer. Then you can refer to the quick guide below to learn how to use this program to download music from Tidal to Apple TV. Here we go.
Step 1. Log into Tidal Music Account
Double-click to start up the Macsome Tidal Music Downloader on your computer. Macsome Tidal Music Downloader offers two download options, which let you either download music from the Tidal app or through the Tidal web player. Here we'll take the web player mode as an example. You can access the Tidal web player by logging in with the username and password you created when you signed up for the service. The new Tidal Free plan is available, but it is exclusive to the US.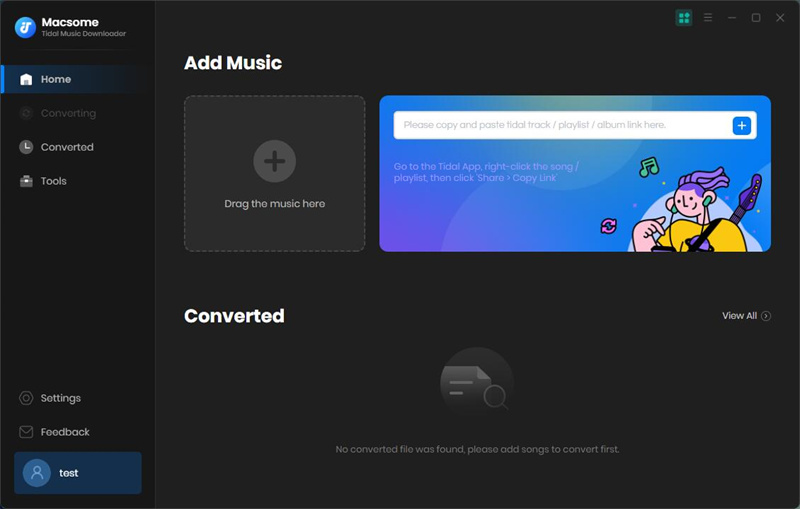 Step 2. Set the Output Formats for Apple TV
Click on the "Settings" in the lower-left of the main interface, you can change the output parameters. To play Tidal on Apple TV, you can set MP3 or AAC as the output format, output quality (320kbps, 256kbps, 192kbps, 128kbps), output folder, and more.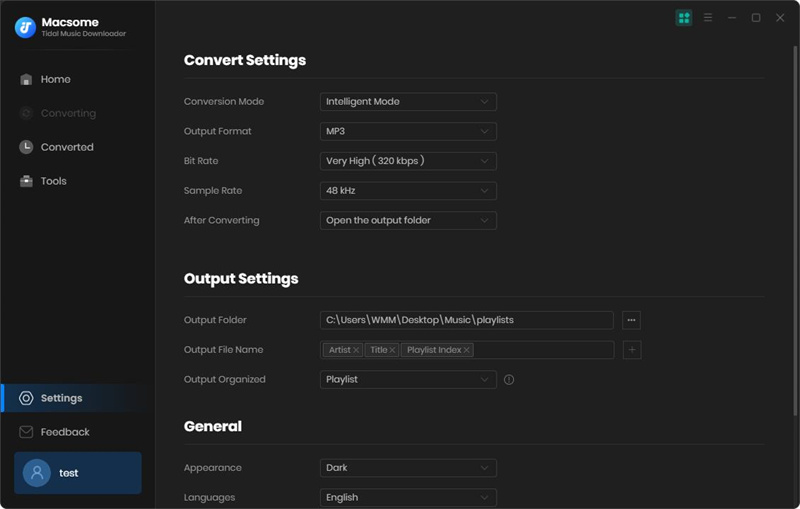 Step 3. Add Tidal Music and Playlists to Macsome
It's easy to add Tidal music to Macsome. You can browse an album or a playlist, or open your created playlist, then you will see the "Click to add" button, just hit it to add the songs you'd like to download to Apple TV. Finally, click the "Convert" button.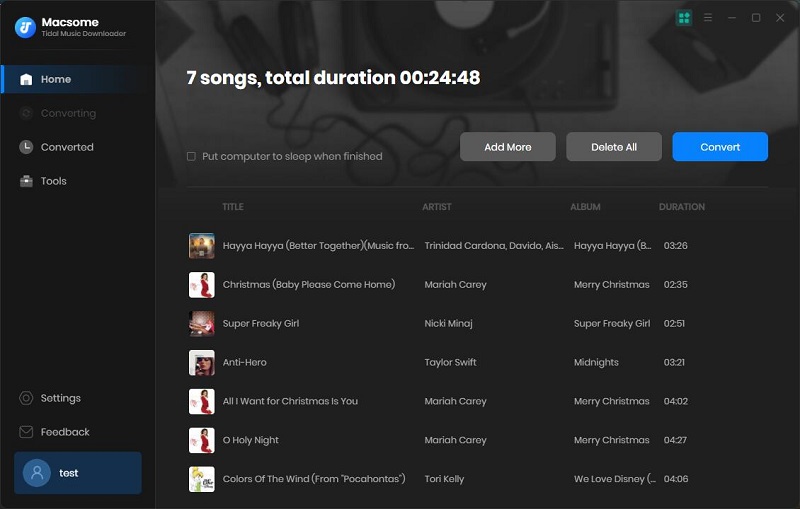 Step 4. Locate the Downloaded Tidal Music
Macsome will start to download Tidal Music songs at up to 10X faster speed. Wait for the conversion to finish, you can hit the "Converted" option to check the downloaded Tidal music files.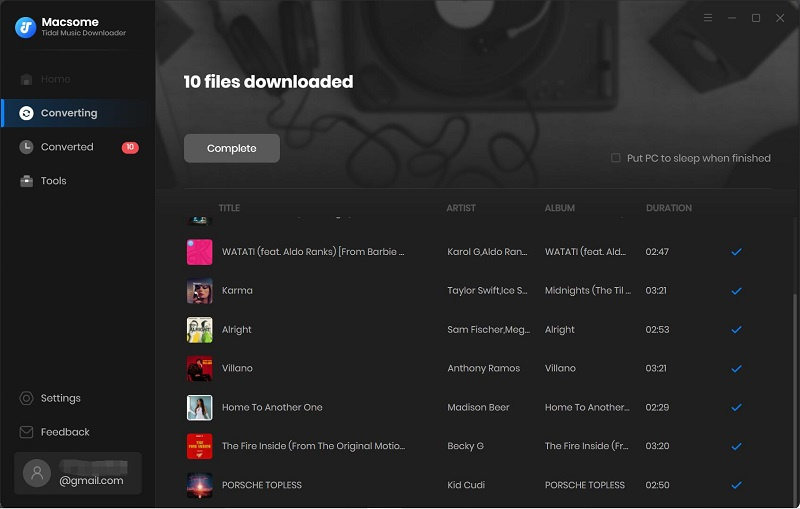 3.2 Sync the Downloaded Tidal Music to Apple TV
Now, you have stored Tidal music files locally on your computer, you can directly set up Home Sharing and play them on your Apple TV easily. Before you start, make sure that you are running the latest version of iTunes on your computer.
1. Open iTunes, and sign in with your Apple ID. From the menu bar at the top of the iTunes window, click "File - Add folder to Library" to import the downloaded Tidal music to iTunes. Then choose "File - Home Sharing - Turn on Home Sharing."
2. Open "Settings" on Apple TV, then go to "Users and Accounts - Home Sharing". Turn on Home Sharing, then enter your Apple ID and password. Once you've configured all your devices with the same Apple ID, you will find the shared library, and now you can play it on Apple TV.
Conclusion
The methods above enable you to play Tidal music on Apple TV. Apple TV comes in many generations and may influence which method you pick. By comparison, using Macsome Tidal Music Downloader is preferable. It can easily download Tidal music to MP3, AAC, or other Apple TV-supported audio formats. There is no need for a subscription to listen to Tidal music offline, without the Tidal app. As long as Tidal free is available in your country, you can download Tidal music and listen to Apple TV for free with ease.
The free trial version of the Macsome Tidal Music Downloader supports downloading the first minute of each song. You can unlock the time limitation by purchasing the full version.