Comprehensive Tutorial to Play Tidal Music on Sonos
Sonos is a system of wireless, smart, connected speakers, which has been working for the multi-room speakers over a decade. Many Sonos speakers have a wired design, making them most suitable for home use. It offers one of the best app platforms out there, with support for most of your favorite streaming music services, including Spotify, Apple Music, Amazon Music as well as Tidal. You can now stream music from your phone, laptop or NAS drive to Sonos speakers around the home using your home wireless network.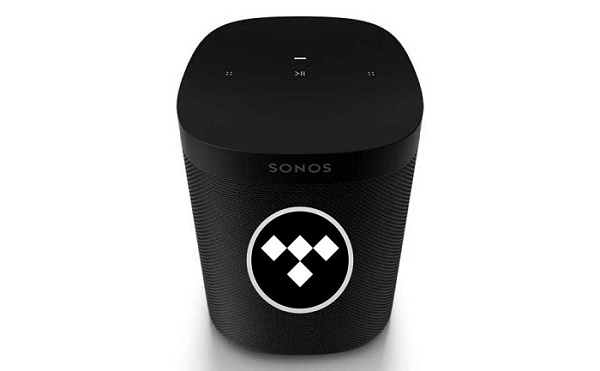 If you get a Sonos Speaker and already subscribed to Tidal service, you can control playback to Sonos speakers directly from the Tidal app. In this article, we would like to focus on how to play Tidal Music on Sonos Speakers.
Part 1. How to Stream Tidal on Sonos with the Tidal App
Sonos is compatible with almost streaming music services, Tidal included. Tidal is also giving out free three-month trials of Tidal HiFi to Sonos users as part of the launch. The following tips will show you how to add Tidal to Sonos for playback.
For iOS or Android device:
1. Download and install the Sonos app on iOS or Android device. Launch the Sonos app.
2. From the Settings tab, tap Services & Voice.
3. Under Music & Content, tap Add a Service, then select Tidal from the listed streaming services.
4. Go to the Now Playing screen, tap the "Cast" icon and select your Sonos speaker.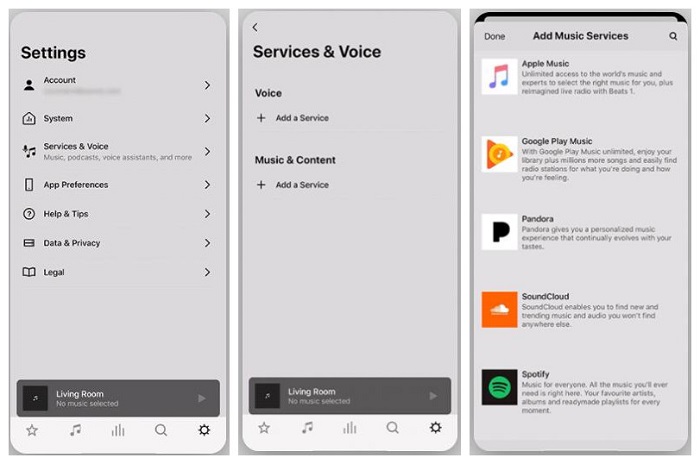 For Mac or PC:
If you want to add Tidal music service to your Mac or PC Sonos app, follow the steps below:
1. Open the Sonos app. Under the Select a Music Source section, click on Add Music Services.
2. Select Tidal, and then follow the instructions to login with your Tidal account.
3. Play a song on Tidal and select Devices Available, then select Sonos speaker.
Now you can stream and listen to Tidal Music on Sonos. Enjoy.
Part 2. Alternative Solution to Play Tidal Music on Sonos Speakers
Obviously, it is simple to link Tidal music streaming service to Sonos and enjoy Tidal music from the Sonos app. If you decide to stop the Tidal Music subscription, is it still possible to continue to use Tidal on Sonos?
As we all know, Tidal is a music streaming service. With a Tidal subscription, you have access to roughly 100 million tracks. Tidal allows you to download songs and play them anytime, even if you are in Airplane Mode or don't have internet connection. However, once you canceled the Tidal subscription, you cannot play Tidal songs anymore, let alone stream Tidal music to Sonos.
Don't worry. We will provide a practicable alternative solution to you. In addition to stream music streaming services, Sonos also supports playing songs from local storage, a maximum of 65,000 songs. Therefore, you could download Tidal music on the local folder so that you are still able to play them on Sonos Speakers.
Why Macsome Tidal Music Downloader is Recommended
To download and save Tidal music on your local folder, you need the help of a third-party tool. Macsome Tidal Music Downloader is such a professional program you can't miss. With it, you can download Tidal tracks, playlists and albums on your computer. Besides, it is a very smart yet easy-to-use Tidal Music Converter that enables to download songs from Tidal to MP3, AAC, WAV, FLAC and AIFF with the Hi-Fi output quality. There is no need to install Tidal app on your computer, just log into Tidal Web Player using your Tidal account, you can easily download music from Tidal with ID3 tags preserved.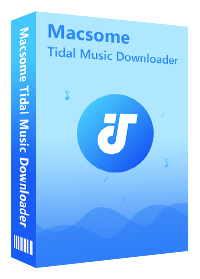 Main Functions of Macsome Tidal Music Downloader
Easily download Tidal tracks, album and playlists.
Convert Tidal songs to MP3, AAC, WAV, FLAC or AIFF.
Retain original audio tracks and ID3 tags.
Download Tidal music with HiFi output quality kept.
No need to install Tidal application separately.
Compatible with the latest Mac and Windows.
Download Tidal Music to Local Storage with Macsome Tidal Music Downloader
Before starting the playback of Tidal music on Sonos, you need to download Tidal music to the local folder. In this guide, you'll learn how to use the Macsome Tidal Music Downloader to download music from Tidal. First of all, please download the latest version of Macsome Tidal Music Downloader through the above buttons according to the platforms you have.
Step 1. Use Your Tidal Account to Login Tidal Web Player
Install and launch it on your computer. If it is your first time to use Macsome, please use your Tidal account to login Tidal Web Player by hitting Log in button.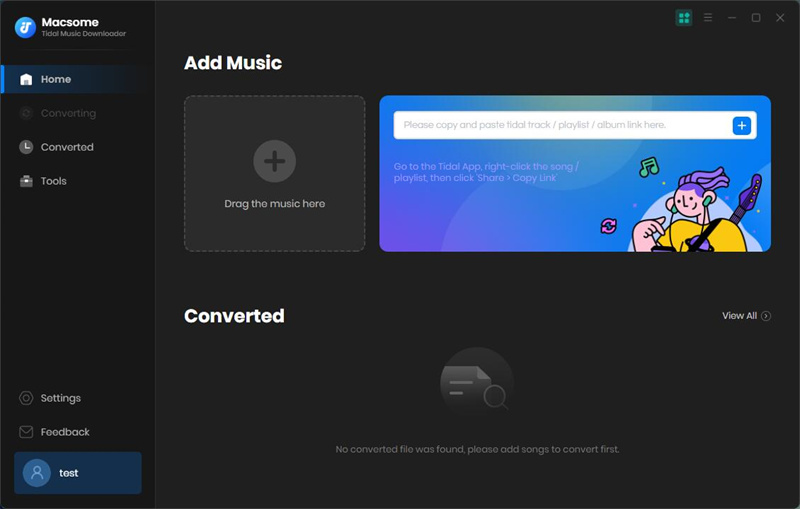 Step 2. Set the Output Formats and Other Parameters
Click on the "Settings" at the lower-left corner. Macsome Tidal Music Downloader offers MP3, AAC, FLAC, WAV, AIFF and ALAC output formats to choose. What's more, you can also customize other output settings such as output quality, output folder according to your own needs.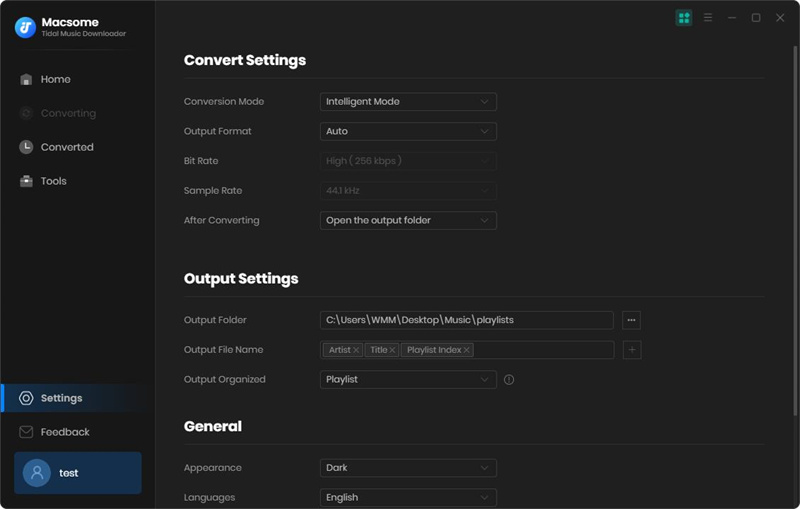 Step 3. Add Tidal Music and Playlists to Download
Open a track, album or playlist, then click "Click to add". Select the songs you'd like to download.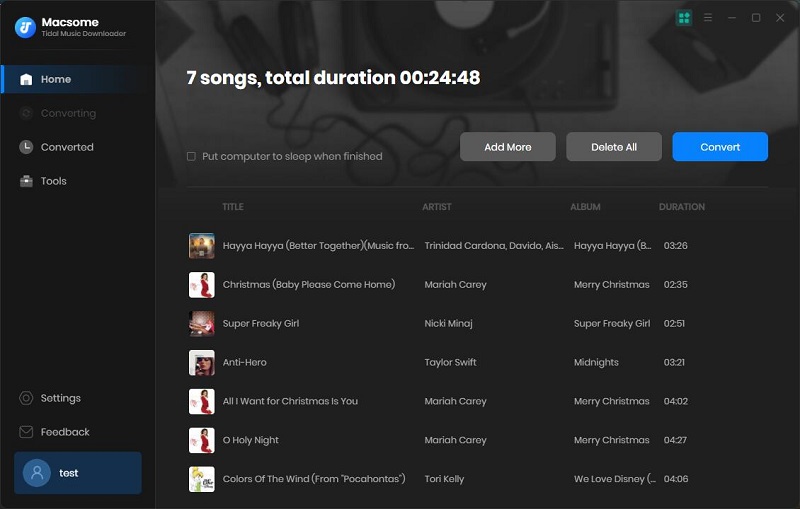 Step 4. Start to Download Tidal Music on Your Computer
After all the settings done, simply click "Convert" button, and you'll find the downloading task automatically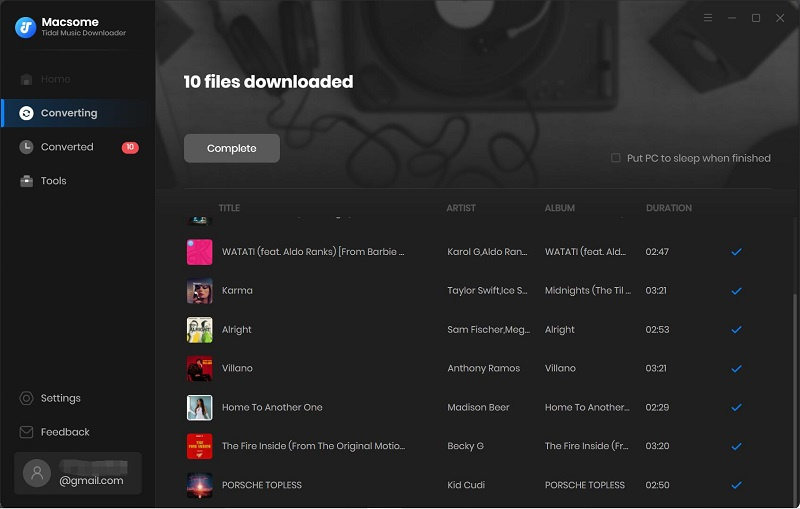 After a while, you will locate the downloaded Tidal songs on your local folder by clicking the "Converted".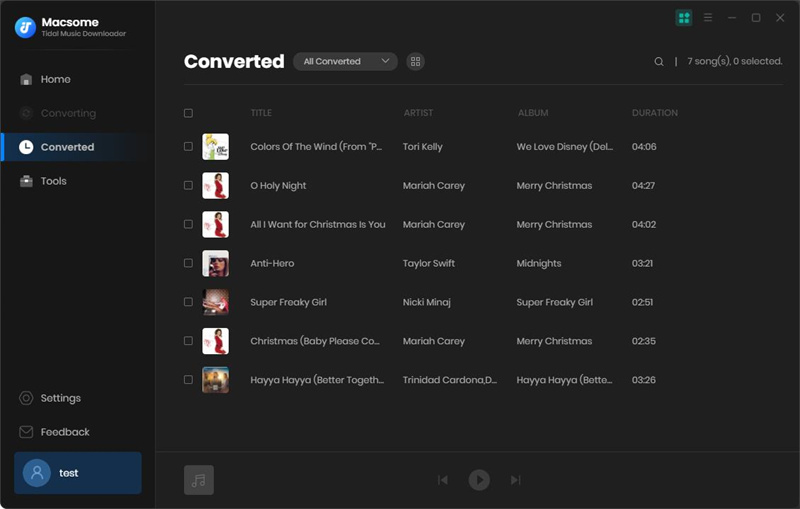 Add Local Tidal Music Library to Sonos
Since you have downloaded Tidal Music to the local folder on your computer. Now you can add the Tidal music library to Sonos from your computer for playback. If you are using Windows PC, the OS should Windows 7 or higher. For Mac, the OS should macOS 10.11 or higher. The tips below will show you how to add Tidal music library using the Sonos app for Windows or Mac.
1. Open the Sonos app for Windows (or Mac).
2. From the Manage menu, select Music Library Settings.
3. Click Add on Windows, or + (plus) if you are using macOS.
4. If you are not sure where your music is stored in the system, click on the My Music folder. Select any other appropriate option where your music is stored otherwise.
5. Follow the onscreen instructions as and when prompted to complete the entire process. It will take a few minutes to upload your music to the Sonos app depending on the size of your Tidal music library.
Now you can browse for Tidal music and play them using the Sonos app on Sonos speakers.
Summary
With the above two methods, you can listen to Tidal on Sonos freely. The first method is straightforward. Only if you have a Tidal Music subscription, you can stream Tidal music to Sonos Speakers directly. Using Macsome Tidal Music Downloader is slightly more complex than the first. However, it allows you download music from Tidal. In this way, you can listen to Tidal songs on Sonos even your Tidal subscription expired.