The Complete Guide to Play Tidal Music on Google Home
Is it possible to add/link a Tidal subscription to Google Home? So to be able to use the voice assistants on the home or mini. I have a few of these speakers in my house and the kids+wife love playing music via them. So it would be useful if I could link my tidal account to it. I know this works for Spotify! - Jonathan Haughton asked on the Reddit
Google Home (now called Google Nest) used to be a line of smart speakers developed by Google under the Google Nest brand, now it's more. With a Google Home speaker device, you can get your local weather reports, manage your calendar, hear the latest news briefs, and other things using voice commands.
Google Home can play music. You can use a Google Home as an ordinary Bluetooth speaker and pull up the song you want to listen to on your phone. Better yet, Google Home also plays your favorite songs from a variety of music streaming services including YouTube Music, Spotify, Apple Music, Pandora, Deezer, TuneIn, SiriusXM, and iHeartRadio. Tidal is not included.
That's to say, there is no Tidal Google Home integration yet, so you can't link Tidal to Google Home directly. Please don't worry. In this article, we will show you the practical workaround to play Tidal music on Google Home with ease.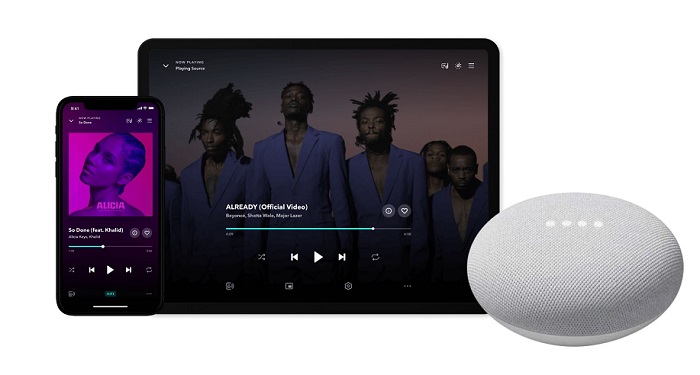 Part 1. How to Download Music from Tidal to Google Home
Google Home speakers can not only stream music from streaming platforms but also play local music using Bluetooth or Plex. Besides, you can also upload your own music to the YouTube Music library or Spotify and stream on Google Home. Therefore, if you can download Tidal music to your local folder, you are able to play music from Tidal on Google Home speakers.
As is known to all, Tidal is a music streaming service. If you subscribe to Tidal, you have the right to download Tidal music for offline listening within the Tidal app on your mobile devices. But you couldn't save Tidal music on the local computer. On the other hand, the downloaded Tidal music files are encrypted and cannot be moved to other devices out of the Tidal app.
With Macsome Tidal Music Downloader, these difficult problems will be easily solved. It allows you to download Tidal tracks, albums, and playlists to your local computer. In this way, you can enjoy Tidal music on your Google Home directly. What's more, as a professional Tidal Music Converter, it can also convert Tidal music to MP3, AAC, WAV, FLAC, AIFF, and ALAC with up to HiFi quality kept. Notably, if Tidal Free is available in your country, Macsome lets you download music from Tidal with a Tidal Free account.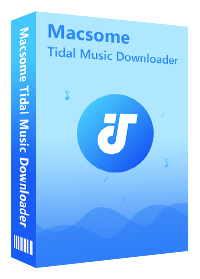 Main Features of Macsome Tidal Music Downloader
Easily download Tidal tracks, albums, and playlists.
Convert Tidal to MP3, AAC, WAV, FLAC, AIFF, or ALAC.
Retain original audio tracks and ID3 tags preserved.
Convert Tidal songs with HiFi output quality kept.
Download Tidal music to computer, iOS, or Android devices.
No need to install the Tidal application separately.
Download Tidal music at 10X faster conversion speed.
Suitable for both Tidal Free and paid users.
Download
&nbsp &nbsp &nbsp &nbsp
Download
Steps to Download Tidal Music on Your Local Computer
Now follow the steps below to learn how to download music from Tidal and make Tidal music playback on Google Home. Before getting started, please make sure you have installed the latest version of Macsome Tidal Music Downloader on your computer.
Step 1. Launch Macsome Tidal Music Downloader
Install and launch Macsome Tidal Music Downloader on your computer. Macsome Tidal Music Downloader offers two download options, which let you either download music from the Tidal app or through the Tidal web player. Here we'll take the web player mode as an example. Launch Macsome Tidal Music Downloader, the Tidal web player will start at the same time. And then use your Tidal account to log in.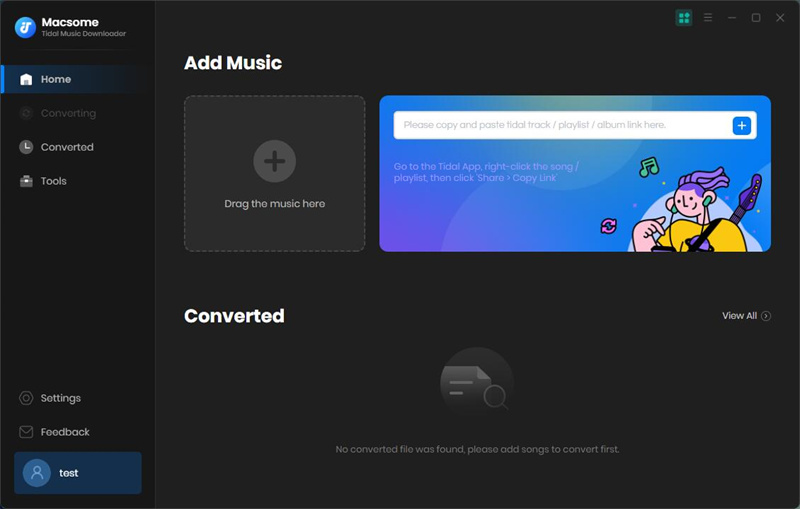 Step 2. Customize the Output Format for Google Home
Click on the "Settings" at the lower-left corner to customize the output parameters. To play Tidal music on Google Home, we suggest you choose MP3 as the output format. Furthermore, you can also select the output quality or output folder as you need.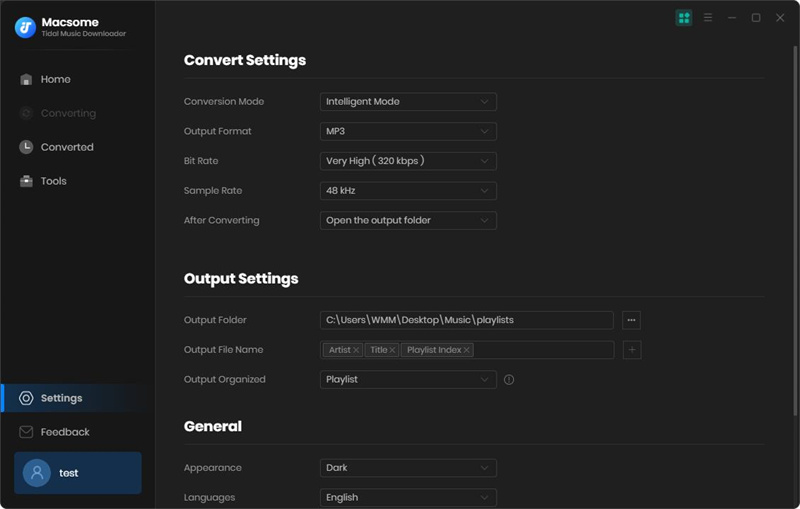 Step 3. Select Tidal Music and Playlists
Browse your favorite playlist you'd like to download, then you can press the Click to add button. After that, the songs for the entire playlist are added to the conversion panel.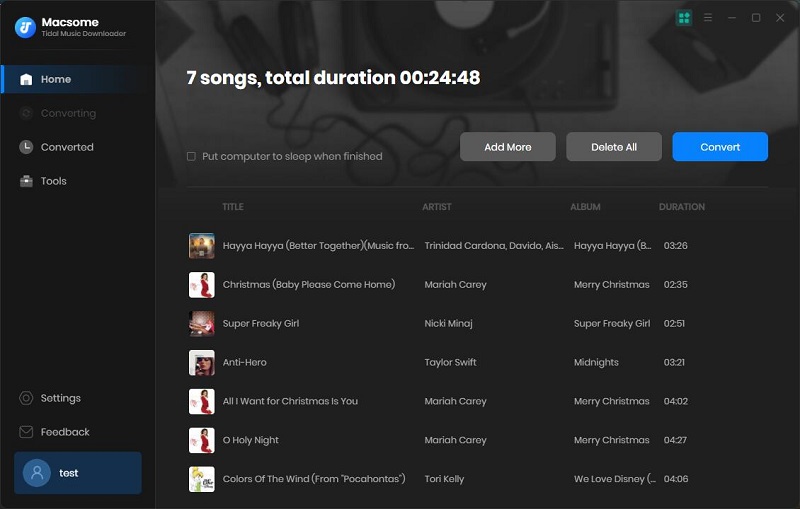 Step 4. Start to Download Tidal Music
Check the tracks you want, simply click the Convert Now button to start the Tidal music downloading process.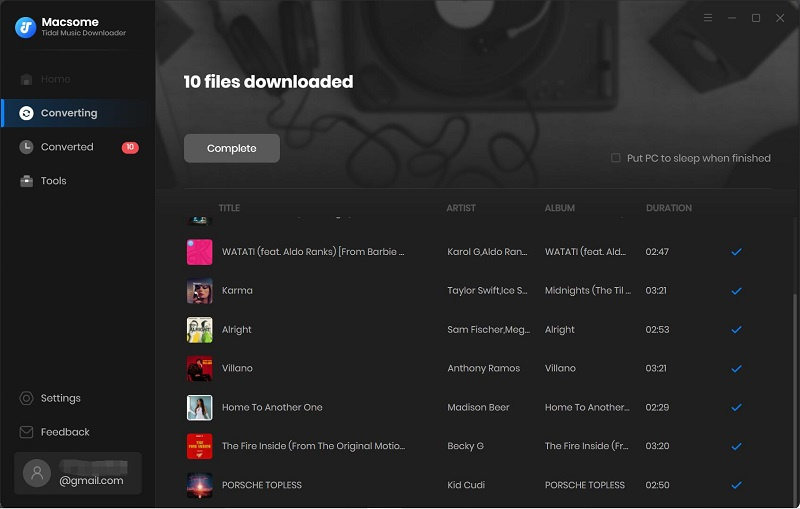 A few moments later, you can find the downloaded Tidal songs by clicking the Converted. Then click the Folder icon, and you can locate all the downloaded Tidal songs in the local folder you set before.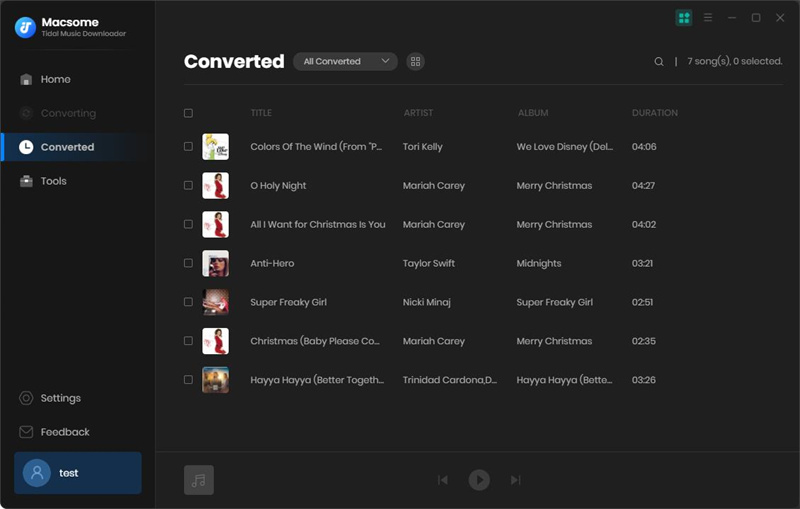 Part 2. Link Tidal to Google Home via Bluetooth
Step 1. Connect your mobile devices to your computer using a USB cable. Then you can transfer your local Tidal songs from your computer to your mobile device.
Step 2. Pair your devices with Google Home via Bluetooth and use it as a Bluetooth speaker.
From the Google Home app: Open the Google Home app, and tap the Devices button. Find the Google Home you want to pair with Bluetooth. In the top right corner of the device card, click Settings - Paired Bluetooth devices - Enable Pairing Mode.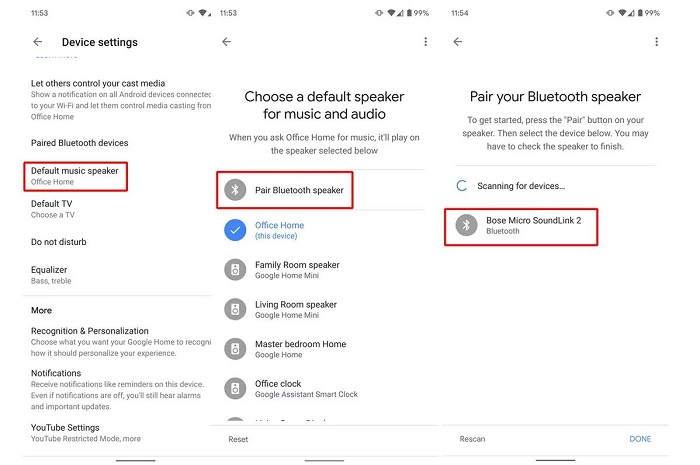 From your mobile device: On your mobile device's Home screen, tap Settings - Bluetooth. Turn on Bluetooth On. Tap the name of the Google Home you'd like to pair.
Once your mobile device is paired and connected to Google Home successfully, you can now start to play Tidal on Google Home from your mobile device smoothly.
Please Note: This method is also available for Tidal subscribers who have installed the Tidal app on their devices. All they need is a stable network and turned-on Bluetooth, and they can link Tidal to Google Home for online playback directly.
Part 3. Upload Tidal Music to YouTube Music and Stream on Google Home
As Google's own music platform, YouTube Music is much more friendly for Google Home than others. YouTube Music allows you to upload your own music to the YouTube Music library, then you can stream from YouTube Music on Google Home speaker ad-free and subscription-free.
Step 1. Head to the YouTube Music web player (music.youtube.com) on Google Chrome and then log in to your account details.
Step 2. Click your profile photo. Find and click Upload music in the menu that appears. Select the downloaded Tidal songs you want to upload to YouTube Music, and hit Open.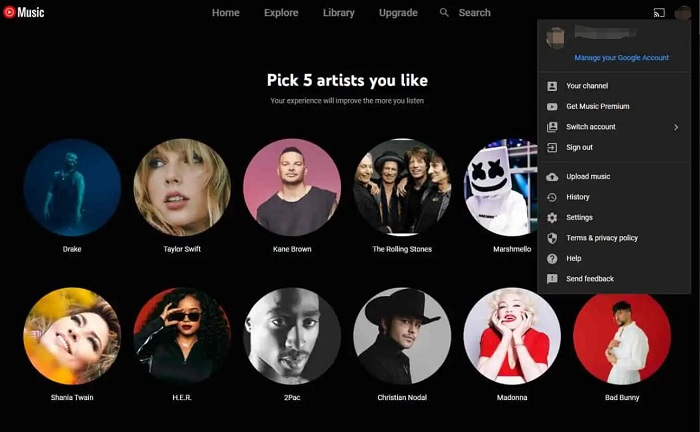 Step 3. Open the Google Home app and make sure you're logged on. On the main page, go to Settings, once the page loads, go to Services - Music, and select YouTube Music as the default service from the listed music services.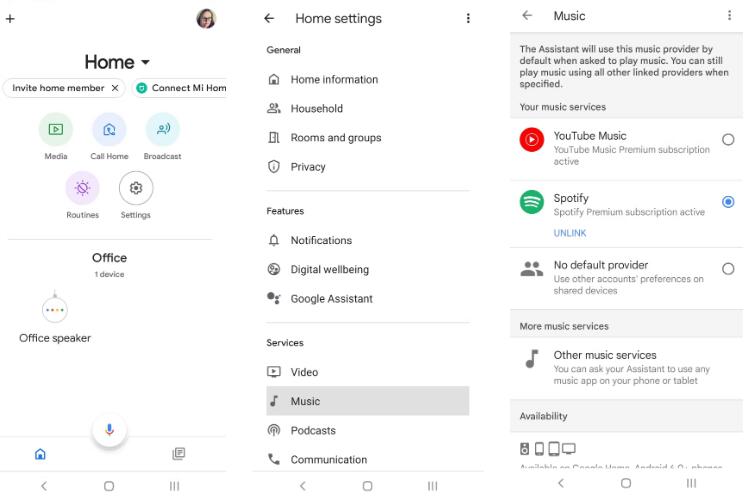 Afterward, you can ask Google Home speaker to start playing Tidal music from the local music playlist you uploaded on YouTube Music via voice commands.
Summary
Now you can listen to Tidal songs on Google Home speakers without limits. If you have a Tidal subscription, you can link Tidal to Google Home via Bluetooth for playback online. On the other hand, you can download music from Tidal and save them as local files by using Macsome Tidal Downloader, and then upload the downloaded files to YouTube Music, or pair your Google Home with your computer or mobile devices by Bluetooth. In this way, you can play Tidal music on Google Home without internet connection.
Macsome Tidal Downloader offers a free trial version, which lets you download one minute of each Tidal track. To know more features of Macsome Tidal Music Downloader, the best way is to use it by yourself. Download and install it for free now!