Different Methods to Play Amazon Music in the Car
There is nothing better than driving down the road with your favorite songs playing. For most drivers, music becomes part of their daily driving routine. And it also adds driving enjoyment on your trip.
Amazon Music is one of the most popular music streaming services behind Spotify or Apple Music. If you're already have an Amazon Music subscription, and wonder how to play Amazon Music in your car, you will get the answer with the following thorough tutorial.

Various Ways to Listen to Amazon Music in Your Car
Solution 1. Play Amazon Music in the Car with Integrated into the Dash
Some modern cars come with Amazon Music app integrated into the dash. Just install the Amazon Music app on your smartphone and follow the instructions for connecting to the in-dash system. And then you can play Amazon Music in the car freely. Now the integration is available on some models from Ford, Alfa Romeo, Audi, BMW, etc. The operation and capabilities vary from brand to brand and car to car. For example, the following is how to get started with Alexa in your Cadillac.
1. If you don't already see the Alexa app on your infotainment screen. tap the Apps icon to download.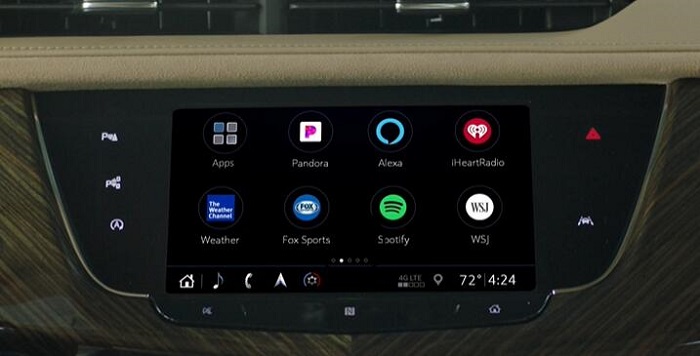 2. Open the Alexa app on your vehicle's infotainment screen. Tap "Get Started".
3. Link your Amazon account with a code at Amazon.com/code or use the phone camera to scan the QR code.
4. Once you are signed in, you can choose how to wake up Alexa. Alexa is now ready to go.
Now you can ask Alexa like 'Alexa, play my road trip playlist' to enjoy your Amazon Music when you driving.
Solution 2. Play Amazon Music via Automotive Devices with Alexa Built-in
If your car doesn't have a built in dash, you can add Alexa to your vehicle using an automotive devices with Alexa built-in, such as Echo Auto, Roav Viva, Garmin Speak, Muse and more. These devices typically use Bluetooth or auxiliary input to connect Alexa to your vehicle and use your smartphone for internet connectivity. And these third-party accessories are not free. Among them, Echo Auto is the first Alexa device from Amazon itself. The following are detailed tips to set up Echo Auto.
Step 1. Download, install and set up the Alexa app on your phone, then sign in.
Step 2. Connect your Echo Auto to the 12V power supply using the cable and adapter in the box, or plug into a USB socket. The Echo Auto will have an orange light on the front when it is ready to connect.
Step 3. In the Alexa app of your phone, go to "devices" - "add", tapping the menu icon in the top left corner.
Step 4. From the menu select "Add a Device", select "Amazon Echo", and then "Echo Auto". Follow the on-screen instructions to set up your device.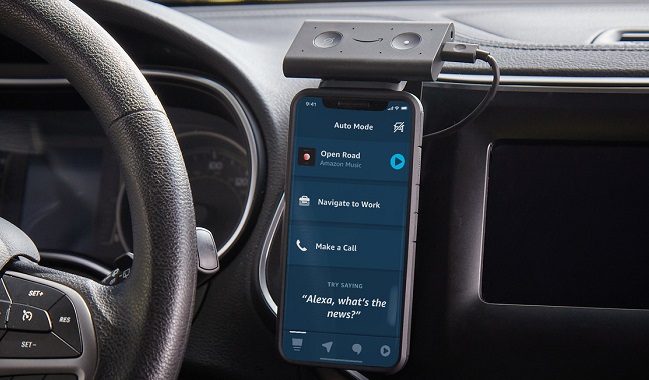 Echo Auto uses the Alexa app to access your favorite content. Just ask Alexa to play a song, genre, artist, or station from Amazon Music in your car.
Solution 3. Listen to Amazon Music in Car via Bluetooth or Cable
If you don't have Alexa built-in devices, you are also able to listen to Amazon Music via a Bluetooth connection, an AUX or USB cable to directly connect your mobile phone to your car.
3.1 Bluetooth
If your car is equipped with a Bluetooth stereo, you can wirelessly connect your phone to play Amazon songs to the stereo through the use of Bluetooth.
Step 1. From the settings menu on your car audio system, look for Bluetooth or Bluetooth Connection.
Step 2. Go to the settings on your phone, select Bluetooth Settings sub-menu and make sure Bluetooth is on. You'll see a list of available Bluetooth devices. Then select the car stereo and wait for the both paired.
Step 3. Launch the Amazon Music app on your phone, and select a playlist or track. Turn up the volume on your car stereo and the Amazon music starts playing from your phone.
3.2 Auxiliary Cable
If both your car and phone have a stereo jack, it is easy to listen to Amazon Music songs. Just connect your phone to the car stereo via the auxiliary cable. Turn on your car stereo and select the "Aux" mode, select and start playing the songs from Amazon Music on your phone.
3.3 FM Transmitter
If your car has no auxiliary or Bluetooth built-in, you can still get Amazon Music working with the help from FM transmitter. This is a fantastic way to play music from phone to car because they are comparatively cheap and easy to configure.
Plug the FM transmitter into your car's 12V lighter socket. You can then plug your phone into the device' USB port to charge the battery, and connect to the device via Bluetooth. This sends Amazon Music from your phone to the device, which then broadcasts it on an FM frequency; tune your car radio to this frequency and your phone's audio output comes through the car stereo.
Solution 4. Play Amazon Music in Car via Apple CarPlay / Android Auto
Many cars come with Apple CarPlay and Google Android Auto apps. These are straightforward and easier ways to play Amazon Music to your car. If your vehicle is capable of this functionality, refer to the following tips to learn how to set up CarPlay or Android Auto according to the devices and cars you have.
4.1 Apple CarPlay
To use Apple CarPlay, your car must support the feature and your iPhone needs to be running iOS 7.1 or higher. First, you need to connect your iPhone to the car either by using a USB port or via a Bluetooth connection.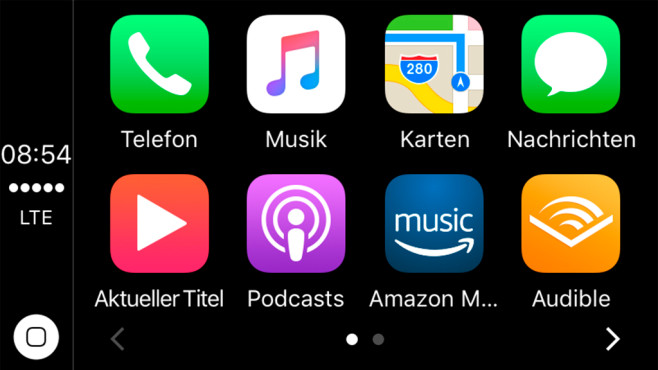 Once connected, the CarPlay logo will appear on your phone. And then you will see a home screen that looks like a bigger version of your iPhone with all available apps on your infotainment screen. Simply open the Amazon Music app from the screen, select an album or a playlist from Amazon Music to start playing it in your car.
4.2 Android Auto
Amazon Music is now available for Android Auto. Connecting your phone to the car with Android Auto is easy. Before started, make sure your phone is running Android 6 and up, ensure your car is in park (P), turn both your car and phone on and ensure your phone has a strong and fast cellular data connection. Then follow these easy steps:
1. Go to Google Play and download the Android Auto app.
2. Plug a USB cable into your car's USB port and plug the other end of the cable into your Android phone.
3. Follow the on-screen prompts on your phone to complete setup. Your phone's Bluetooth is turned on automatically when Android Auto is connected to the car via USB.
4. On your car display, select Android Auto. Follow the instructions to get started.
5. If you have installed Amazon Music app on your phone, just open it. Select a playlist or an album from Amazon Music to play in the car.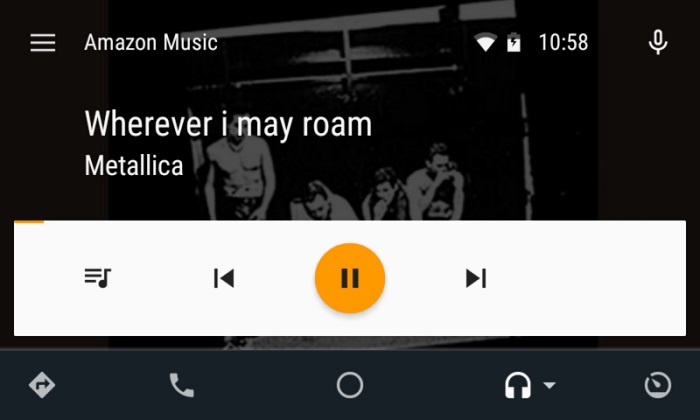 Solution 5. Listen to Amazon Music in Car via USB Drive or CDs
Whatever solutions you use, you are able to play Amazon Music in your car. But all the methods above have something in common, you should install Amazon Music and login with Amazon subscription. Once the subscription expires, any songs associated with Amazon Music won't play. The music, albums & playlists you add to your Library will not be available anymore.
Aiming at the defects of these methods, we will introduce an effective method to you. With the help of Macsome Amazon Music Downloader, you have the ability to download Amazon Music songs and podcasts to plain audio formats including MP3, WAV, AAC, FLAC, AIFF and ALAC with high output quality, so that you can transfer the downloaded Amazon Music songs to USB drive or burn them to a CD. Therefore, you can insert the USB drive or CDs into your car for continue playing Amazon Music songs.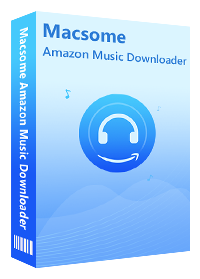 Why Choose Macsome Amazon Music Downloader
Support downloading Amazon Music Unlimited and Amazon Prime Music.
Convert Amazon Music and Podcast to MP3 / AAC / WAV / FLAC / AIFF / ALAC.
Support batch conversion and super faster conversion speed.
Keep high output quality and all ID3 tags information after conversion.
Don't need to install Amazon Music app separately & clean and safe to use.
Add downloaded Amazon Music to USB, CD, SD card, iOS & Android devices, etc.
Download
&nbsp &nbsp &nbsp &nbsp
Download
The following is a complete tutorial on how to use Macsome Amazon Music Downloader. With this step-by-step guide, downloading Amazon Music to USB drive or CDs for your car couldn't be easier. It takes only a few steps.
Download Amazon Music to USB Drive or CDs
Step 1. Please Use Your Account to Login Amazon Music Web Player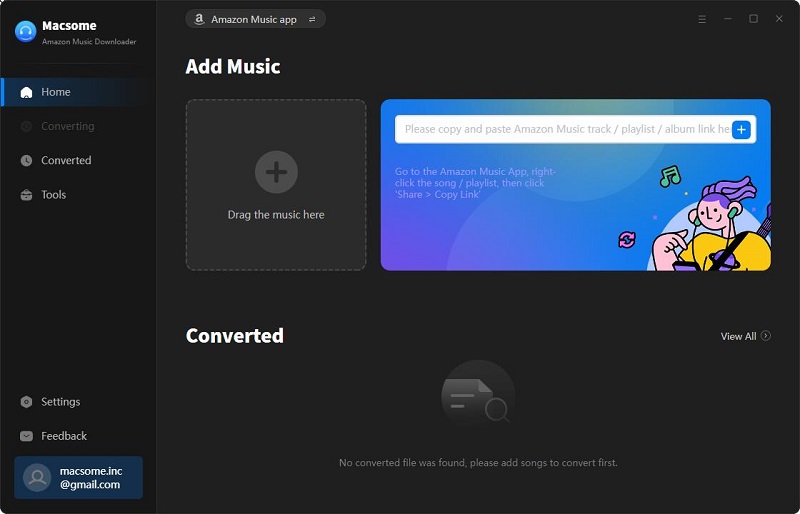 Step 2. Set Output Format
Click the icon at the top-right corner of the window, Macsome supports MP3, AAC, FLAC, WAV, AIFF and ALAC output formats. Here we suggest you choose MP3 as the output format, as MP3 is the most commonly used for portable players or tablets.
You can also choose Output Quality (320kbps, 256kbps, 192kbps, 128kbps), Output Path and your country/region at the bottom of the window. What's more, if you want to organize the converted Amazon Music files, you can also set the Output Organized like Artist, Album, Artist/Album, or Album/Artist.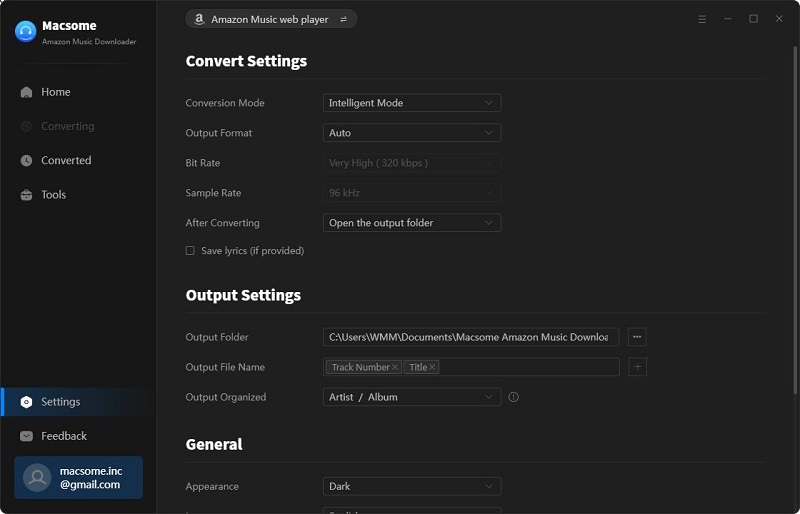 Step 3. Add Amazon Music or Podcast to Macsome
Open a track, album, playlist or Podcast, then you can click "Add to list" button to import the files from Amazon Music library to Macsome.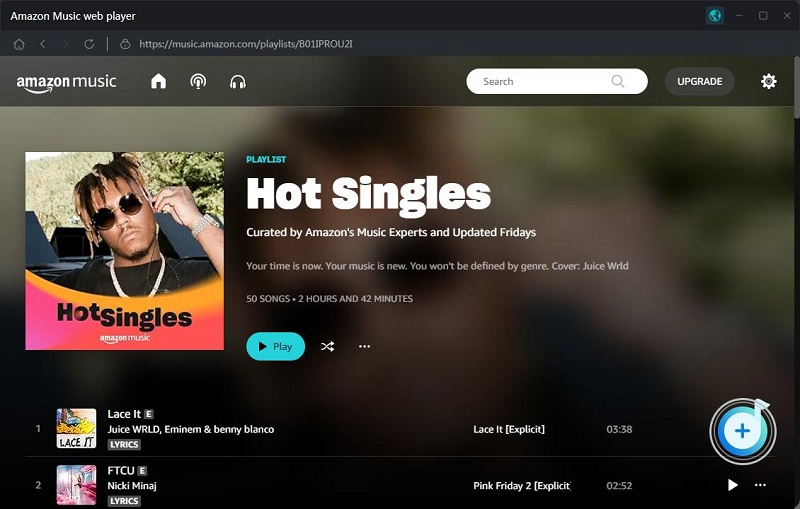 Step 4. Start Downloading Amazon Music Songs
After you've added the songs you'd like to download to the conversion list, simply click the "Convert" button to start downloading Amazon Music songs to your computer. When the downloading finished, you can find the downloaded Amazon Music files listed on the history option.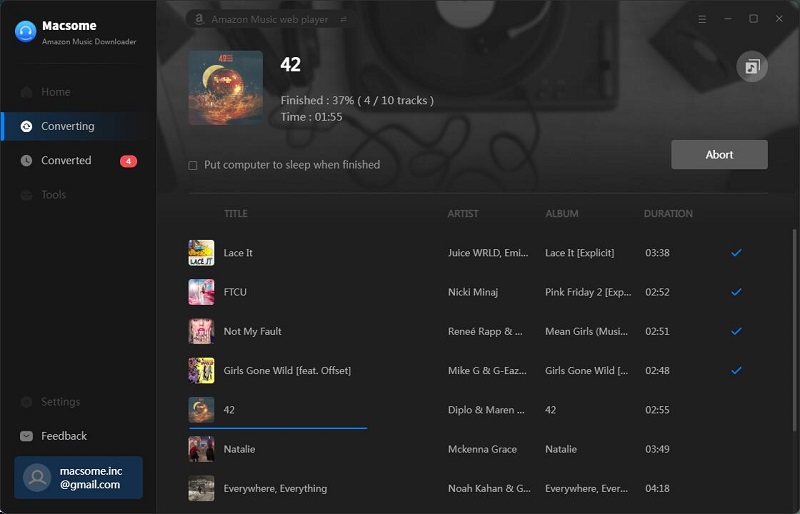 Step 5. Transfer Amazon Music to USB Drive or CDs
1. Connect the USB drive to your computer's USB port. Locate the downloaded Amazon Music songs, simply select the songs or the whole folder and right-click to choose "Send to" and click on the "USB" button. The music file will automatically transferred on your USB. Then plug the USB drive in your car's USB ports, select a song from the list and the Amazon Music will start playback through your car.
2. Insert a blank CD into your computer, and then burn Amazon Music songs to a CD by using iTunes, Windows Media Player, or VLC media player. Besides, you can also try the "Burn CD" function of Macsome Spotify Downloader. Now you can play Amazon Music songs in the car via the CD.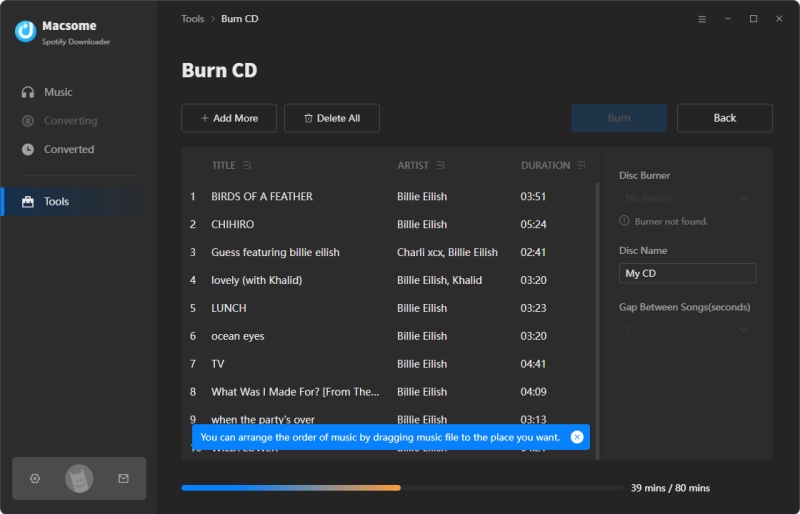 Conclusion
In this article, we listed a variety of different methods to help you listen to Amazon Music in your car. No matter how old your car is, you can find a way to enjoy Amazon songs while driving. It's hard to say which one is the best, choose the method most suitable for you.
However, if you decide to cancel Amazon Music subscription and still want to play Amazon songs, you should try Macsome Amazon Music Downloader. It enables you to download songs from Amazon Music Unlimited as well as Prime Music on your computer, so that you can play them after the subscription expired.
Macsome Amazon Music Downloader has a free trial version, which allows you to convert three minutes of each audio file. To unlock the limitation, you can get the full version.