The Ultimate Guide to Add Amazon Music to iMovie
Nowadays, there are so many video editing tools that you're able to use. When it comes to video editing software for Mac, most users may firstly think of iMovie. It is a free video editor that is preinstalled on to your Mac. This application is simple, and easy to operate. With it, you can not only edit your own video clips, add visual effect, but also can import music and sound effects to your iMovie project.
iMovie supports a library of sound effects to choose from, and you can add audio from your own iTunes library, or from a song you created in GarageBand and exported to your iTunes library. When you try to add tracks from Amazon music, you may failed. Why? Amazon Music is a kind of music streaming services for people to subscribe to. Users can select the music to stream to the device on-demand for offline listening. But one of the most tricky problems for subscribers is that they can not transfer songs from Amazon Music to other programs, iMovie included.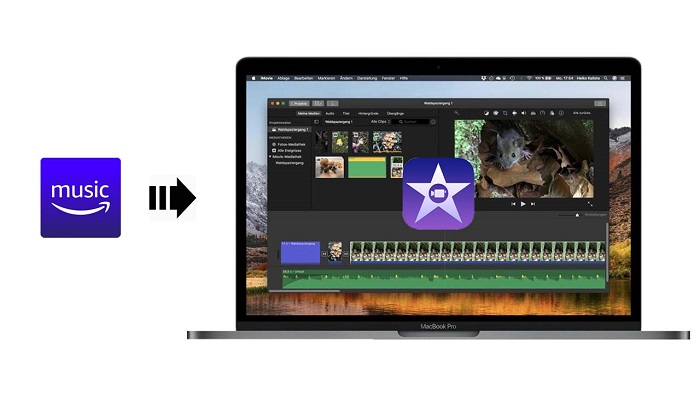 So, how can you import Amazon Music songs to iMovie? In this article, we will offer an alternative way to help you download songs from Amazon Music, so that you are able to add the downloaded Amazon songs to your iMovie clip easily.
Part 1. How to Download Amazon Music onto iMovie
Obviously, iMovie does not work for Amazon streaming music. According to Apple Inc. the following audio formats are compatible with iMovie on Mac computers, including AAC, AIFF, MP3, WAV and M4A. In order to use Amazon tracks in iMovie, you need to download songs from Amazon Music to iMovie supported audio formats.
Macsome Amazon Music Downloader for Mac is such a smart tool for you. It is specially designed for Amazon Music subscribers, which allows you to download Amazon Music songs and podcasts to MP3, WAV, AAC, FLAC, AIFF and ALAC with high output quality. Therefore, it is easy to add the downloaded Amazon Music songs to iMovie and use any audio clip freely.
Moreover, it's able to keep up to the original audio quality as well. After downloading, ID3 tags will be preserved, including the title, artist, album, track number, and other information. Macsome Amazon Music Downloader for Mac also supports the Apple M1 devices. It is compatible well with the latest macOS.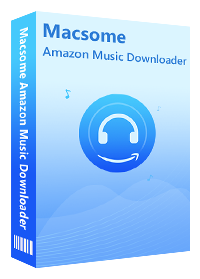 Features of Macsome Amazon Music Downloader for Mac
Support downloading from Amazon Music Unlimited and Amazon Prime Music.
Download Amazon Music and Podcast to MP3 / AAC / WAV / FLAC / AIFF / ALAC.
Keep high output quality and all ID3 tags information after conversion.
Don't need to install Amazon Music app separately & clean and safe to use.
Add downloaded Amazon Music to iMovie, Final Cut Pro, iOS & Android devices, etc.
With the help of this Amazon Music Downloader, it is very easy to download Amazon Music songs to iMovie for editing. Please follow the instructions below.
Step 1. Login Amazon Music Web Player
At first, download, install and run Macsome Amazon Music Downloader on your Mac. This program now lets you download music from the Amazon Music app or web player. Here we'll take the Amazon Music web player as an example. Then the Amazon Web Player will open at the same time. Just use your Amazon Music account to login Amazon Web Player by hitting "Sign in".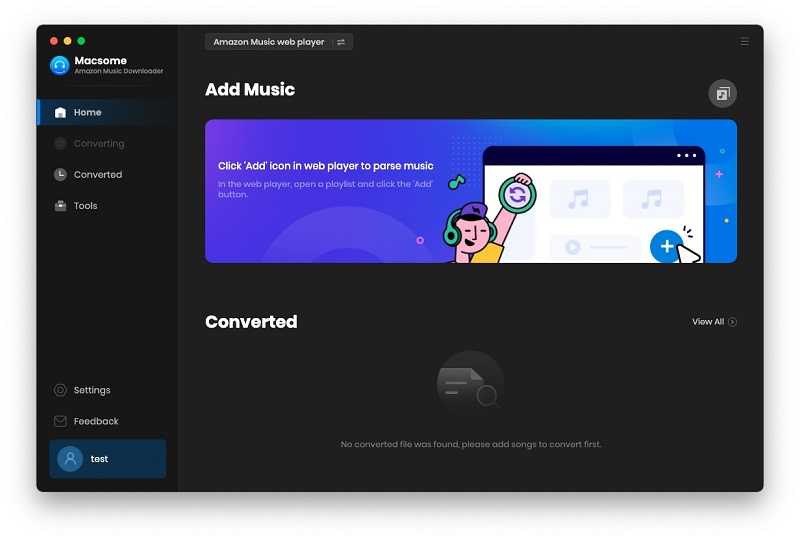 Step 2. Set Output Format for iMovie
Click the icon at the bottom-left of the window, you can set MP3, AAC, WAV, FLAC, AIFF or ALAC as the output format.
In addition, you also have the ability to select the Output Quality (256kbps, 192kbps, 128kbps), Output Folder and Output File Name. What's more, if you want to organize the downloaded Amazon Music files, you can also set the Output Organized like Playlist, Artist, Album, Artist/Album, or Album/Artist.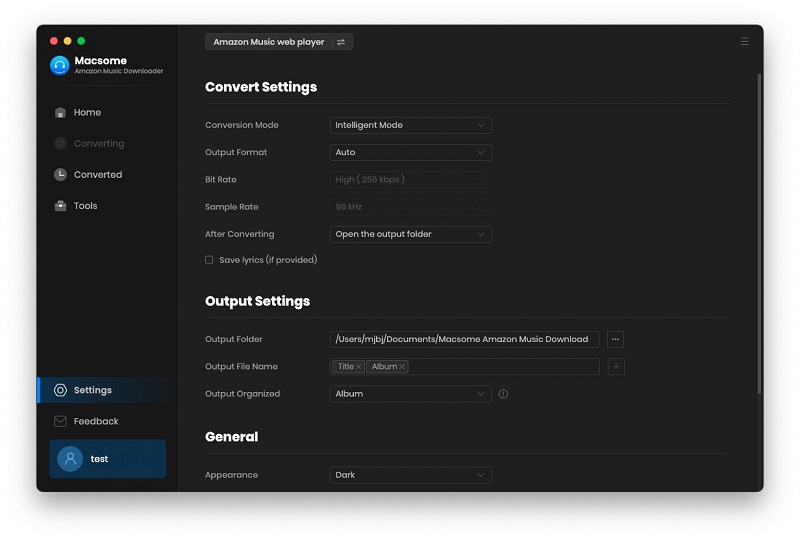 Step 3. Import Amazon Music to Macsome
Macsome supports downloading Amazon Music tracks, albums, playlists and podcasts. You can locate the created playlists, or browse through new content you'd like to download. Once you have decide to choose your favorite playlist or album, you will see the "Click to add" blue button. Click it, then all the selected songs from Amazon Music library will be imported to Macsome.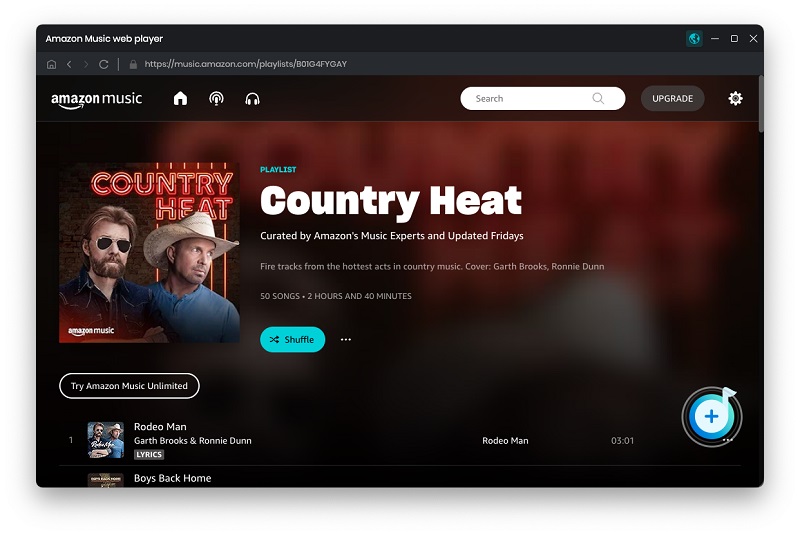 Step 4. Start Downloading Amazon Music Songs
This step is pretty simple, actually. Just click the "Convert" button, Macsome will start downloading Amazon Music songs. When the downloading process is completed, you can find the downloaded Amazon Music files listed on the Converted.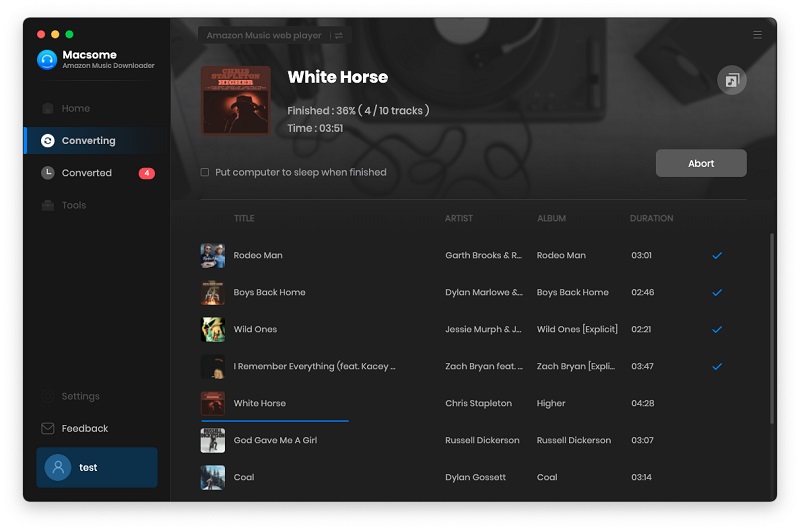 Part 2. How to Add Music to iMovie Project from Amazon
Now all the downloaded Amazon Music files are ready to be added to iMovie on your Mac. Here we will guide you how to add Amazon Music into iMovie on Mac as well as on your iPhone or other iOS devices.
2.1 How to Add Audio or Sounds to iMovie on Mac from Amazon Music
As we mentioned before, you can easily add audio to iMovie clip from its inbuilt library or third-party sources like iTunes. To know how to use the downloaded Amazon Music files to iMovie, you can follow these steps.
1. Open an iMovie Project
Start iMovie from the dock or the Applications folder from Finder. Open your iMovie project. Or click the "Create Project" button in the lower-right corner of the Project Library to create a new iMovie project.
2. Add Music to Your iMovie Project
Press on the "Audio" tab at the top of the browser, you will see the available libraries to choose in the sidebar on the left.
Click the icon like import arrow button in the top left side of the window, it's gonna open up your computer, then you can choose the downloaded Amazon Music files. After located your music file, drag and drop it to iMovie's timeline under the video clip you want to add music to.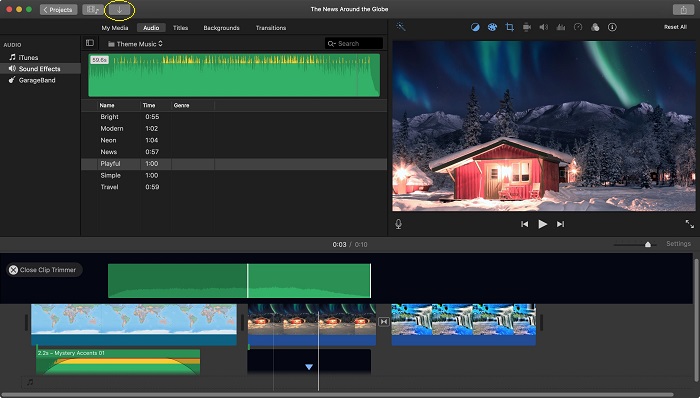 You can also simply open the downloaded Amazon audio folder from the Finder, slide it into the video.
3. Adjust Background Music
Now you can move, trim, and edit the background audio independently in the iMovie timeline. You can also add "Fade in/Fade out" effect to the added background music. Preview your video and export it if you're satisfied with it.
2.2 How to Add Music in iMovie on iPhone or iPad
iMovie is also available for iOS and iPadOS. If you'd like to use the Amazon Music songs with iMovie on your iPhone or iPad, here we go.
1. Import Amazon Music Songs to iTunes or Apple Music on a Mac
Open iTunes or Apple Music on your Mac, click the "File" menu, and then click "Add to Library". Navigate to the downloaded Amazon Music files you want to import, click "Open".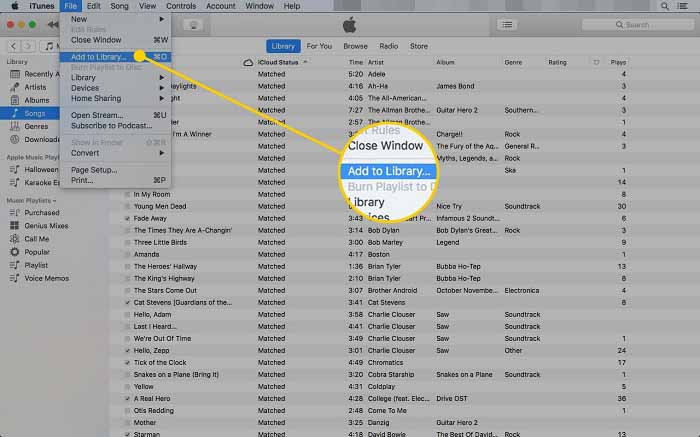 2. Sync Amazon Music Songs on iPhone or iPad
Connect your iPhone or iPad to your Mac. And then launch iTunes, in the upper left corner of the iTunes window, select the iPhone or iPad icon, press the "Music" menu tab in the left pane. Check the "Sync Music" to enable it. Now you can select the downloaded Amazon Music files you prefer to sync, click "Apply".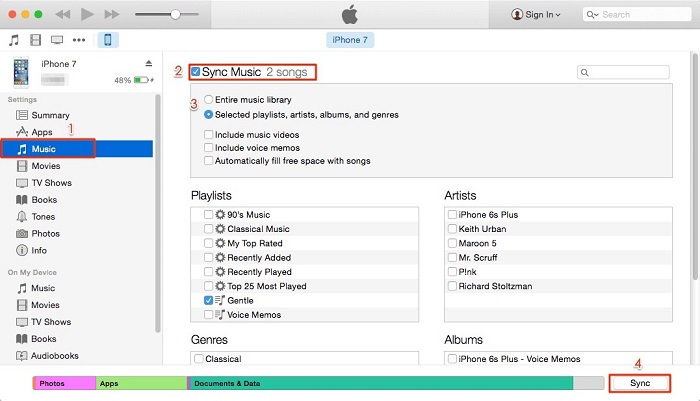 3. Add Music to iMovie Video from iTunes Library
Starts the iMovie app on your iPhone or iPad, open an existing video that you want to edit or create a new project.
Tap "+", select the "Audio" from the following screen. Choose "My Music", it will open your Apple Music app, you can search the downloaded Amazon Music track from playlists, albums, artists, or songs. And then import it to your project.
Once you've decided which track to use, select it and then tap the "+" icon next to the track to add it to your project. Then you can change its length, adjust the volume of audio clips and add sound effect, etc.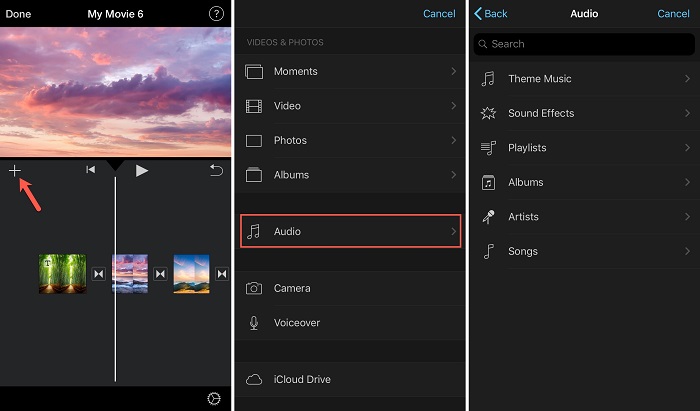 Last but not least, it couldn't be easier to add sounds you want to your video. More specifically, you should select some copyright-cleared music, which can be approved for use on various platforms, like YouTube, Facebook, Instagram and Vimeo. Otherwise, your video may be removed or monetized through ads.
Disclaimers
This tool is only for personal or educational use.
You should not use this tool to pirate or distribute music.
Conclusion
Due to the influence of the competition between Apple Inc. and Amazon Inc., using Amazon Music into iMovies project directly still have a long way to go. With the help of a third-party tool is the most straightforward and effective method right now. That's why we recommend Macsome Amazon Music Downloader. By using it, it will be easier for you to download Amazon Music to common audio formats for importing to iMovie.
Not only that, Macsome Amazon Music Downloader is suitable for both Amazon Music Unlimited as well as Prime Music members, which enables you to download Amazon Music songs or podcasts, and save them as MP3, AAC, WAV, FLAC, AIFF or ALAC on your computer. Thus, you can still keep Amazon Music songs for playback even you cancel your subscription.
Macsome Amazon Music Downloader offers a free trial version, which allows you to convert 1 minute of each audio file. To unlock the limitations, please consider purchasing the full version.