Some of your Questions:
Q.Why can I only convert the first 3 minutes of each audio?
Macsome Spotify Downloader has a free trial version, which only allows users to convert the first 3 minutes of each song for testing. To unlock this restriction, please order a license.
Q.What's the differences between Macsome and other Spotify converter tools?
Macsome Spotify Downloader can not only download Spotify music and convert them to MP3, AAC, WAV, FLAC, AIFF and ALAC. You can also upload the music from Spotify to OneDrive and iTunes. Besides, you can burn the Spotify songs to a CD.
Q.I have received the license information. How to register Macsome Spotify Downloader?
Step 1: You can directly click the the icon to open the registration window and complete the registration process.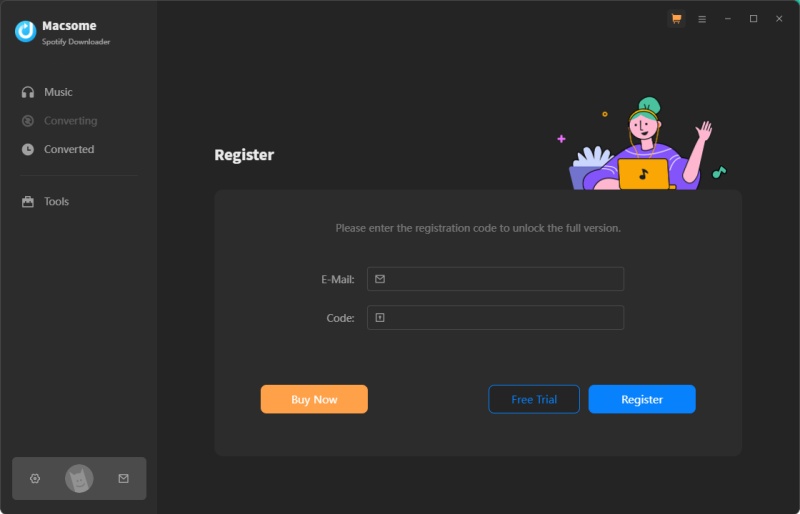 Besides, you can also click the icon on the top-right user interface, and choose "Register" option in the drop-down list, you will get the following registration window.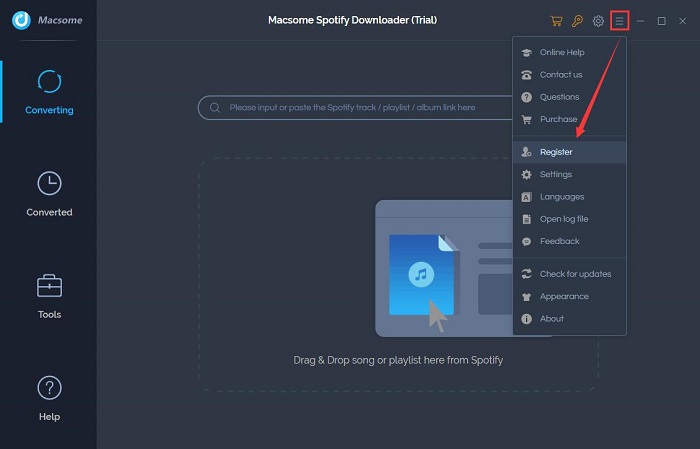 Step 2: Copy and paste the registration Email and Code into the registration popup dialog, then click "Register".
Q. What can I do if I get the message "Invalid Code" when trying to register?
1: First please make sure that you have downloaded the right program.
2: The registration code is case sensitive. And, please do not add blank at the beginning or the end of the word. You can also copy and paste the Email address and Code into the registration popup dialog.
3: If you are sure that you are running the right program and following the direction but still get the error message, please contact our support team for help.
Q. What kinds of music format the program supports? What output format can it export?
Currently Macsome Spotify Downloader supports converting Spotify single track, playlists, albums and Podcasts to MP3, AAC, WAV or FLAC format.
Q.Can I convert the entire playlist from Spotify?
Yes, you can. But please note that the program is limited to be added to up to 100 songs at one time. If you'd like to convert a playlist with more than 100 songs, please open the playlist on Spotify, select all files in the playlist and then drag & drop them for converting. Or you can create some new playlists and convert them separately.
Q.The output audio quality is unsatisfied, how to improve the output quality?
Please set the output format as MP3, bitrate as 320kbps. To customize output settings, please click on the icon at the top right-hand corner of interface, then set "MP3" as output format, "Very High (320kbps)" as output quality in the pop-up window, and please set the conversion speed as 1x speed to ensure the output quality.
Q.What's the function of "Intelligent Mode"?
Intelligent Mode is a combination of Spotify Record Mode and YouTube Download Mode. When you choose "Intelligent Mode" in the settings window, the conversion rate would be increased a lot thus you can get the Spotify tracks as needed.
Q.How to sort out the output audios by Artist / Album folders?
From the settings pop-up window, you can choose how you'd like the output files to be organized - "Artist/Album", "Artist", "Album", "Artist/Album" or "None".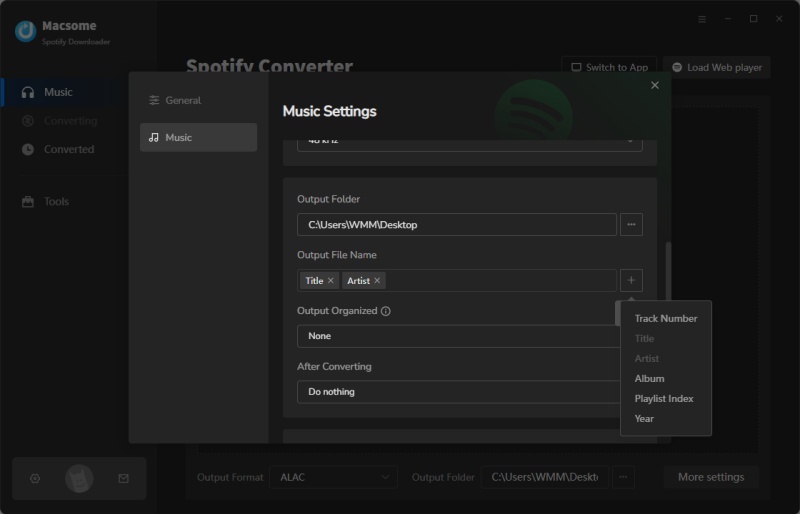 Q.The volume of some converted songs are lower than the volume of original ones. Is there any way to improve it?
If you want to download the songs in full volume, we suggest you change the setting in Spotify. The most important thing is to uncheck the "Set the same volume level for all songs" box in Spotify.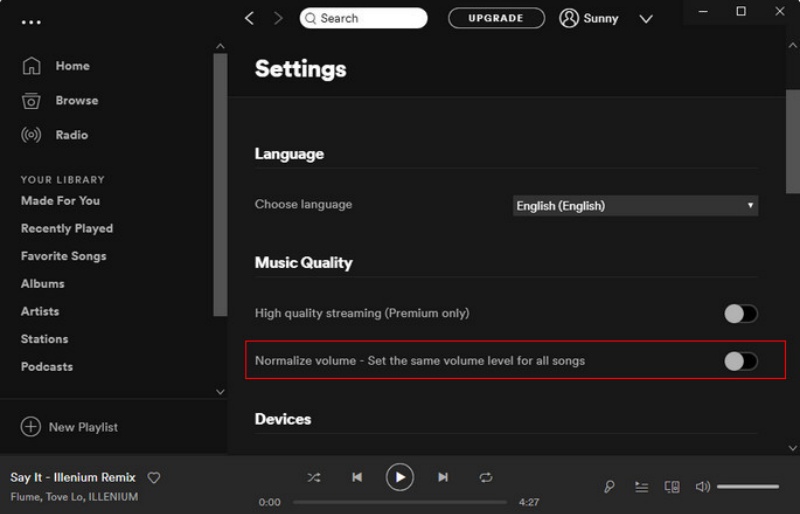 Q. Solutions to Error 1001, 1002, 1004, 1009, 2000, 2001-2005 and Error -1 ?
Please Note: If multiple devices are logged into the same Spotify account, please make sure you are selecting "This Computer" to play the audio on Spotify when downloading Spotify music with Macsome Spotify Downloader.
[1] Error Code 1001:
Cause: Fail to play Spotify music when converting Spotify music.
Solution: Please refer to our Solutions of Error 1001.
[2] Error Code 1002 (Error 1007 or Error 1008):
Cause: Can't play the current music on Spotify.
Solution: Please refer to our Solutions of Error 1002.
[3] Error Code 1004:
Cause: Can't play current music on Spotify; Spotify crashes after clicking "Convert" button.
Solution 1: Please re-convert the music or adjust some settings on Spotify by referring to Solutions of Error 1004.
Solution 2: If your Spotify crashes after clicking "Convert" button, we suggest you switch to "Intelligent Mode" or "YouTube Download" mode.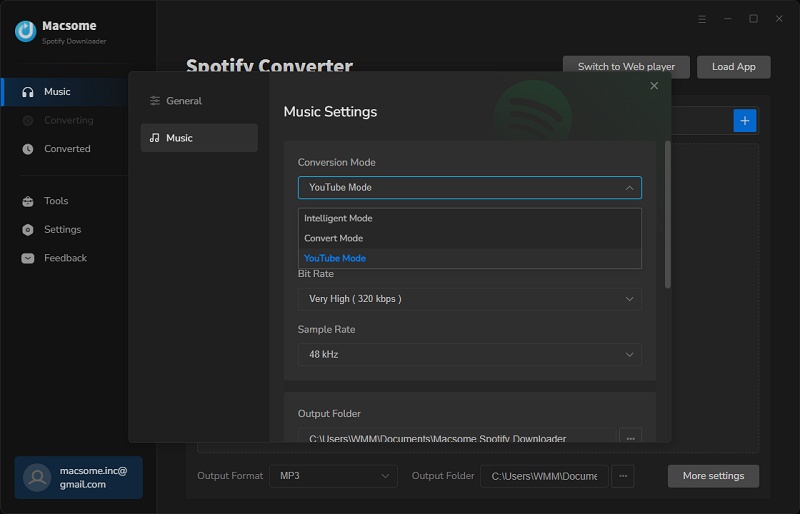 [4] Error Code 1009:
Cause: The selected "Output Folder" has no permission to read/execute/write/delete files.
Solution: Change a different "Output Folder" and select ""None" on the "Output Organized" before you start conversion.
[5] Error Code 2000:
Cause: There is insufficient disk space for the "Output Folder".
Solution: Free up some space under the ""Output Folder" or change the output folder to another output directory.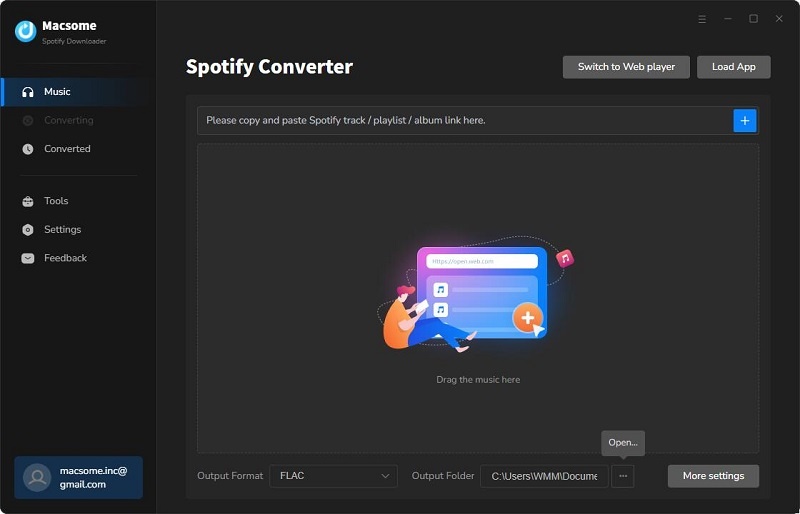 [6] Error Code 2001-2005:
Cause: The program encountered some errors like query no match, query failure, download failure under "YouTube Download" conversion mode
Solution: We feel so sorry to inform you that there is no solution available to fix Error 2001-2005, for that matter, we advise you to select "Spotify Record" as the conversion mode.
[7] Error Code -1:
Cause: The program is occurring an unknown error and it can't convert Spotify music successfully.
Solution: You can try it again later or change your conversion mode under the program setting.
Q.What Should I Do If My Spotify Account Suspended?
If your Spotify account suspended, do not worry, please try the following:
1) Contact Spotify support at https://support.spotify.com/us/contact-spotify-anonymous/ .
2) Confirm to Spotify support that you are no longer engaging in "illegal content downloads".
3) After that, do NOT use the "high speed" function in Macsome Spotify Downloader for recordings from Spotify.
4) Do not use any other tools for Spotify, as many of them only use the high-speed function.
If above solutions still cannot fix your problems, please provide the following information to our support team via [email protected]. We will reply to your message within 24 hours on weekdays and 48 hours on weekend. And we will submit your feedback to our developer and inform you if the solution is available.
1. Which Windows OS are you using? 32 bits or 64 bits?
2. What is the output format you choose?
3. Please send us Spotify song or playlist links which you converted for a test.
4. Please send us two log files. You can find them by clicking the icon, and select Open Log File. Then click the logs folder and you will see the log files, please send us all the log files.