Some of frequently asked Questions:
Q.Why can I only convert the first 1 minute of each audio?
Macsome Pandora Music Downloader has a free trial version, which only allows users to convert the first one minute of each song and convert 3 music files simultaneously. To unlock this restriction, please get the full version.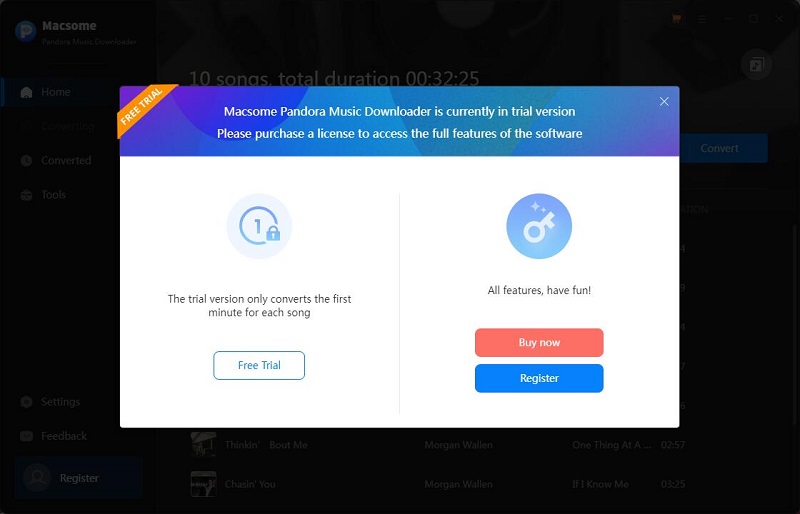 Q.What's the differences between Macsome Pandora Music Downloader and other Pandora music downloading tools?
Macsome Pandora Music Downloader can not download music from Pandora web player, but also can convert Pandora music to MP3, AAC, WAV, FLAC, AIFF and ALAC. It supports downloading music from Pandora free, Pandora Premium and Pandora Plus.
Q.I have received the license information. How to register Pandora Music Downloader?
Step 1: You can directly click the icon to open the registration window and complete the registration process. Besides, you can also click the icon on the top-right user interface, and choose "Register" option in the drop-down list, you will get the following registration window.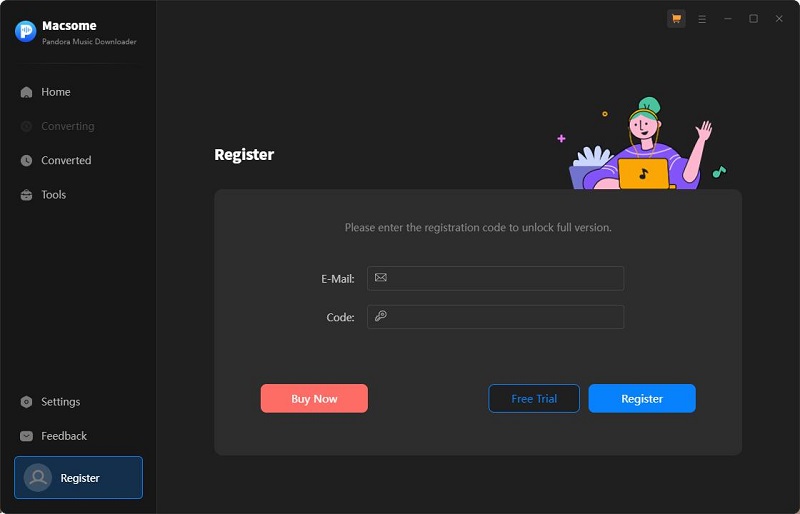 Step 2: Copy and paste the registration Email and Code into the registration popup dialog, then click "Register".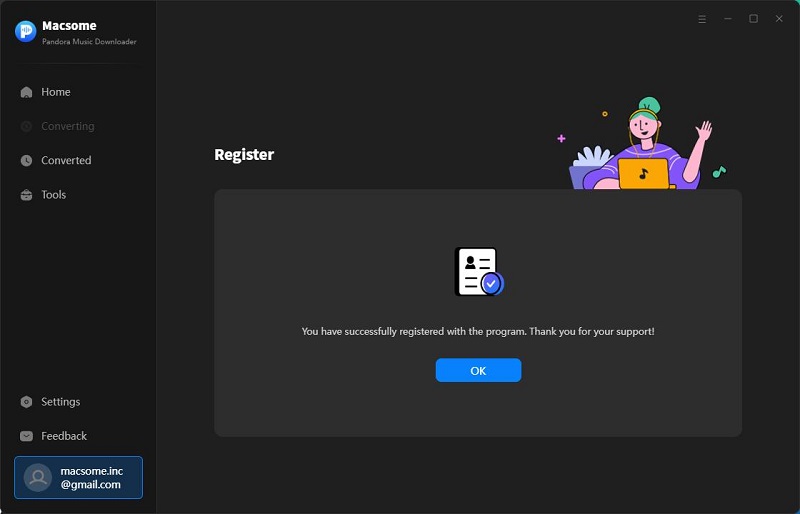 Q. What can I do if I get the message "Invalid Code" when trying to register?
1: First please make sure that you have downloaded or ordered the correct program.
2: The registration code is case sensitive. And, please do not add blank at the beginning or the end of the word. You can also copy and paste the Email address and Code into the registration popup dialog.
3: If you are sure that you are running the right program and following the direction but still get the error message, please contact our support team for help.
Generally speaking, Mac program and Windows program are different. You can't use the license for Mac to activate the Windows version and vice versa.
Q. What kinds of music format the program supports? What output format can it export?
Macsome Pandora Music Downloader can download Pandora Music tracks, albums, playlists, and podcasts, then convert Pandora music to MP3, AAC, WAV, FLAC, AIFF and ALAC formats.
Q. Can I convert the entire playlist from Pandora Music?
Yes, you can. It supports downloading the entire playlist. You can select a playlist and click "Add to list" button to load the whole playlist to the program.
Q. The output audio quality is unsatisfied, how to improve the output quality?
Macsome Pandora Music Downloader supports downloading music from Pandora with a web player built-in. Because Pandora on the Web plays 64k AAC+ for free listeners and 192kbps for Pandora Plus and Pandora Premium subscribers. You can click on the icon at the top right-hand corner of interface, then set "AUTO" as output format, as it will keep the original quality.
Q. How to contact us when you encounter with "Conversion Failure"?
If above solutions still cannot fix your problems, please provide the following information to our support team via [email protected]. We will reply to your message within 24 hours on weekdays and 48 hours on weekend. And we will submit your feedback to our developer and inform you if the solution is available.
1. Which Windows OS are you using? 32 bits or 64 bits?
2. What is the output format you choose?
3. Please send us Pandora Music tracks or playlists' links which you converted for a test.
4. Please send us two log files. You can find them by clicking the icon, and select Open Log File. Then click the logs folder and you will see the log files, please send us all the log files.