Q.Why can I only convert 1 minute of each audio?
Macsome Tidal Downloader offers a free trial version, which only allows users to convert one minute of each song for testing. To unlock this restriction, please purchase a license.
Q.What's the differences between Macsome Tidal Downloader and other Tidal conversion tools?
Macsome Tidal Downloader is one of the best Tidal Music Converter, which can not download music from Tidal, but also can convert Tidal songs to MP3, AAC, WAV, FLAC, AIFF and ALAC with HiFi quality. This program is available for Tidal HiFi Plus, Tidal HiFi, and Tidal Free users. It can not only let you download Tidal Masters songs from the Tidal app but also can allow you to download Tidal music from the Tidal web player at up to 10x faster speed.
Q.I have received the license information. How to register Tidal Downloader?
Step 1: You can directly click the Register profile icon to open the registration window and complete the registration process.
Besides, you can also click the icon on the top-right user interface, and choose "Register" option in the drop-down list, you will get the following registration window.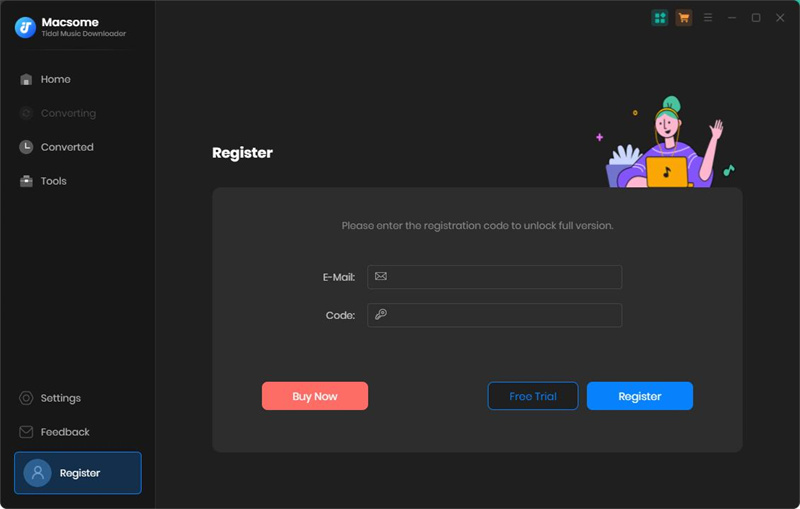 Step 2: Copy and paste the registration Email and Code into the registration popup dialog, then click "Register".
Q. What can I do if I get the message "Invalid Code" when trying to register?
1: First please make sure that you have downloaded the right program.
2: The registration code is case sensitive. And, please do not add blank at the beginning or the end of the word. You can also copy and paste the Email address and Code into the registration popup dialog.
3: If you are sure that you are running the right program and following the direction but still get the error message, please contact our support team for help.
Q. What kinds of music format the program supports? What output format can it export?
Tidal Downloader supports converting all types of Tidal music, including tracks, playlists, albums, etc. It supports MP3, AAC, WAV, FLAC, AIFF, and ALAC output formats.
Q. Can I convert the entire playlist from Tidal?
Of course, you can. It supports converting the entire playlist. If you choose to record music from the web player, open a playlist, then click "Click to add" button to import the whole playlist to the Tidal Downloader. If you choose to record music from the Tidal app, you can copy the link to playlist and paste it to the box, then Macsome will parse the link.
Q. Does Macsome Tidal Music Downloader support to download Tidal HiFi or Tidal MQA Songs?
Yes. Macsome Tidal Music Downloader offers two downloading modes. If you choose to record music from the Tidal app, it will let you download High (HiFi) and Max (Master) songs with up to Tidal High (HiFi) and Max (Master) quality. Just select record songs from "Tidal App", then select "Tidal Record" mode and choose "Auto" output format in the Settings option.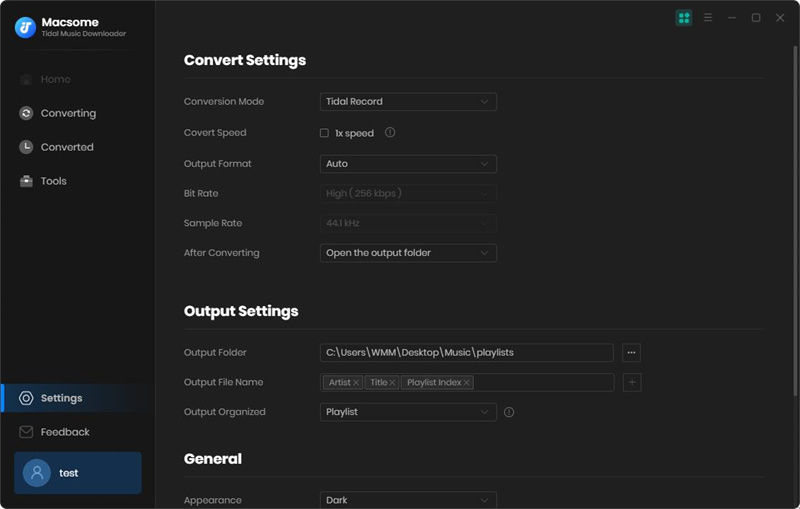 Q. How to make Macsome Tidal Music Downloader work up to 10x faster speed?
Macsome Tidal Music Downloader provides two download modes: Tidal App and Tidal Web Player. If you choose to record music from the Tidal web player, you can download Tidal music at up to 10x faster speed.
Q.Solutions to Failed 1000?
"Failed 1000" means your program is occurring an unknown error and it can't download Tidal songs successfully.
We suggest you can try again later .
Q.Solutions to Failed 1005, 1200, 1201, 6208?
Caused: Failed 1005, 1200, 1201, 6208 mean that Macsome Tidal Music Downloader downloads songs timeout or other errors.
Solution: Please relaunch Macsome, then start to download music again.
Note: For Failed 1201 on the macOS, please also go to uninstall the Recording Driver, after that please restart Macsome program for a try.
Q.Solutions to Failed 1007?
If multiple devices are logged into the same Tidal account and play music at the same time, then you will get the Failed code "1007". In this case, please make sure you are using Tidal on this computer alone while using Macsome.
Q.Solutions to Failed 1010, 1700-1702?
Caused: Failed 1010, 1700, 1701, and 1702 mean Macsome encountered errors like query no match, query failure, download failure under "YouTube Download" conversion mode.
Solution: Please choose "Tidal Record" as conversion mode on the settings window.
Q.Solutions to Failed 1101?
"Failed 1101" means Macsome fails to launch the Tidal app.
If you reopen Macsome Tidal Music Downloader but still get this error code, please reinstall the Tidal app to check whether the issue can be fixed.
Q.Solutions to Failed 1102?
"Failed 1102" means that Tidal app fails to play your music. For this error, please try and check if the following tips help to fix this issue.
1. Please make sure that you are using the latest version of Macsome. If not, please download the latest version through the Download Center
2. Please make sure the original audio can be played on Tidal normally.
3. Please check whether the problem only happens to individual files, if so, please try to convert them again.
4. Please check whether is there any external audio device connected with your computer while conversion, including USB, Wi-Fi, Airplay, Bluetooth and HDMI, etc. If so, please disconnect them and retry.
Q.Solutions to Failed 1802-1803?
Please follow the steps below to authorize the "Music" app.
Step 1: Go to System Preferences - Security & Privacy - Privacy tab.
Step 2: Scroll download and find out the "Automation" option, then tick on "Music" under Macsome Tidal Music Downloader.
Q.Solutions to Failed 4000-4005, 4100-4105?
Caused: The error code Failed "4000-4005, 4100-4105" mean that the input/output path does not exist, the program fails to create the output files or the name of the output path is too long, or need authorization to create a folder.
Solution: Run Macsome, go to the "Settings" on the left, change a different output path, and choose "None" under "Output Organized" for a try.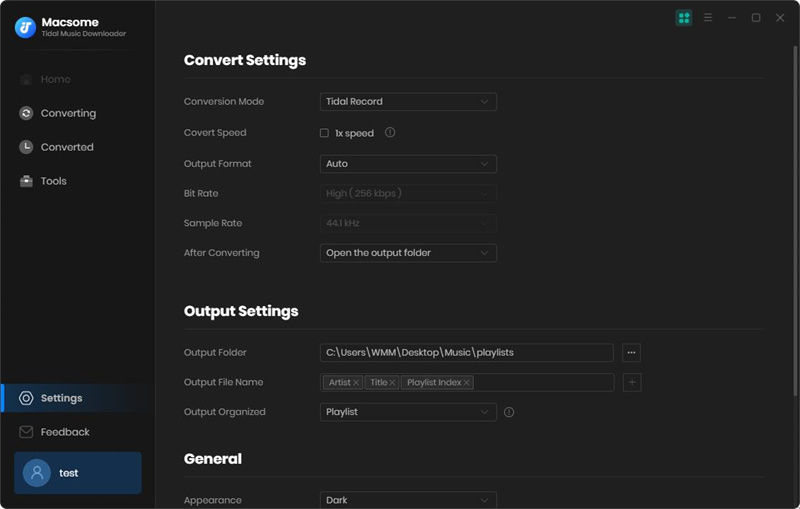 For Failed 4003, it's caused by the insufficient disk space. Please also try to free up some space on the output path of Macsome.
Q. Solutions to Failed 4106?
Failed 4106 means the output file is too large to save into your FAT disk. Please choose another output path and do not select your FAT disk.
Q. How to contact us when you encounter with "Conversion Failure"?
If above solutions still cannot fix your problems, please provide the following information to our support team via [email protected]. We will reply to your message within 24 hours on weekdays and 48 hours on weekend. And we will submit your feedback to our developer and inform you if the solution is available.
1. Which OS are you using?
2. Which download mode do you choose? Tidal App or Tidal Web Player?
3. What is the output format you choose?
4. Please send us Tidal song or playlist links which you converted for a test.
5. Please send us log files. You can find them by clicking the icon, and select Open Log File. Then click the logs folder and you will see the log files, please send us all the log files.