Complete Guide to Make A Playlist on Pandora
Pandora is one of the leading music streaming platforms to discover new music and podcasts. Its main feature is Stations that function like radio stations. You can choose to listen to a station you made based on an artist or song that you like. Pandora also allows you to create a personalized playlist so that you can bring all your favorite tunes into a list to play them as per your command.
Creating a playlist on Pandora is pretty easy, all you need is a Pandora Premium subscription. In this article, we'll tell you how you can make a Pandora playlist on your desktop or mobile with ease.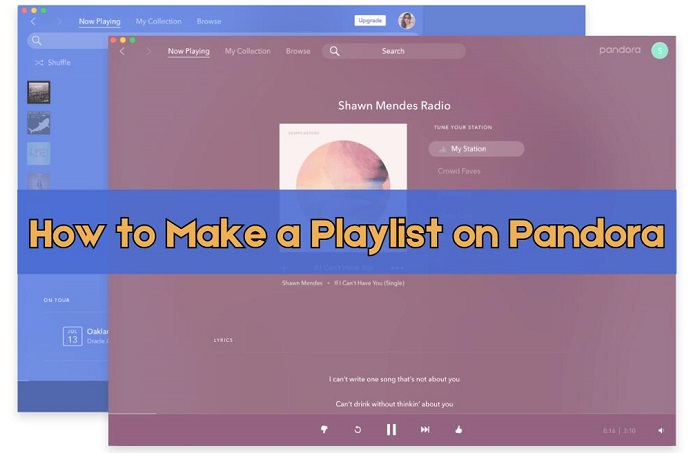 Part 1. How to Make a Pandora Playlist on Android or iOS Device
With a Pandora Premium or Pandora Premium Family Plan, you are able to make unlimited personalized playlists on Pandora. Here's how to create a Pandora playlist on Android or iOS devices, using the official Pandora app.
Step 1. Launch the Pandora app on your mobile device and log in to your Premium account.
Step 2. Go into "My Collection" from the bottom menu.
Step 3. Next to Collected, you'll see a drop-down menu. Tap on it.
Step 4. Select "Playlists", and tap "+ New playlist".
Step 5. Enter a name for your playlist, and then hit "Next". Then, in the search bar, type the name of any album, song, or artist which you want to add to your playlist. Hit "Save" (or "Done") to finish and save it.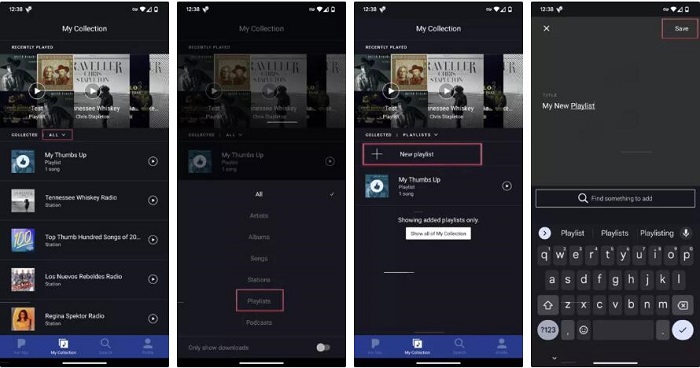 Part 2. Create Pandora Playlists on Desktop Using A Web Browser
You can also create a playlist on Pandora using a web browser on your computer.
Step 1. Open a web browser on your PC or Mac computer, go to the Pandora website and log in.
Step 2. Select "My Collection" from the top menu bar. Then, select the "Playlists" tab in the Collected section.
Step 3. Click on "Create playlist" in the upper-right corner. Now you can name your playlist.
Step 4. Click Find a song to add and enter the name of a song or artist, and select the songs you wish to add to your playlist.
After you created a playlist, you can easily add or remove songs or albums to it. You can also rearrange the order of songs or adjust settings like repeat and shuffle. Now head to your playlists section at any time to find your playlist and enjoy it.

Part 3. How to Make Playlists with A Pandora Free or Plus Account
To make a playlist on Pandora, you will need to be a Pandora Premium subscriber. You can't create playlists if you're a free Pandora user or a Pandora Plus subscriber. Therefore, in this part, we will adopt a relatively indirect method to help you get Pandora playlists with a Pandora Free or Plus account.
Macsome Pandora Music Downloader is a professional Pandora Playlist Downloader you can not miss. It is especially for Pandora Free, Pandora Plus, and Pandora Premium users, which can not only download Pandora songs, albums, playlists, and podcasts on their computer but also can convert Pandora music to MP3, AAC, WAV, FLAC, AIFF, and ALAC with original quality kept.
With the help of Macsome Pandora Music Downloader, you can download Pandora playlists without a Premium subscription. Then you are able to listen to Pandora playlists offline at will. In addition, for better organizing your music library, you can save the output files into an organized folder like Artist, Album, Playlist, Artist/Album, Album/Artist, Playlist/Artist, or Playlist/Album.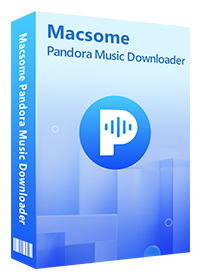 Key Features of Macsome Pandora Music Downloader
Download Pandora songs, albums, playlists, and podcasts offline.
Convert Pandora music to MP3 / AAC / WAV / FLAC / AIFF / ALAC.
Support batch conversion and up to 10x faster conversion speed.
Keep original output quality and ID3 tag information after conversion.
Transfer Music from Pandora to USB, MP3 player, iPod, iPad, etc.
Available for Free Pandora, Pandora Plus, and Pandora Premium users.
Step-by-step Guide: How to Download Pandora Playlists
With the built-in Pandora web player, you just need to log into your Pandora account, and navigate your Collection or Pandora library to find the songs, albums, podcasts, or playlists you want to download. The following step-by-step guide will show you how to download Pandora playlists with Macsome Pandora Music Downloader. Let's move on.
Step 1. Sign in to Pandora Music Web Player
Download, install, and launch Macsome Pandora Music Downloader on your PC or Mac. Then log into Pandora web player using your full email address and password. Then you can access Pandora's library through the built-in web player.
Please Note: Macsome needs to work with a Pandora account, but it will never take any other information from your account other than the songs.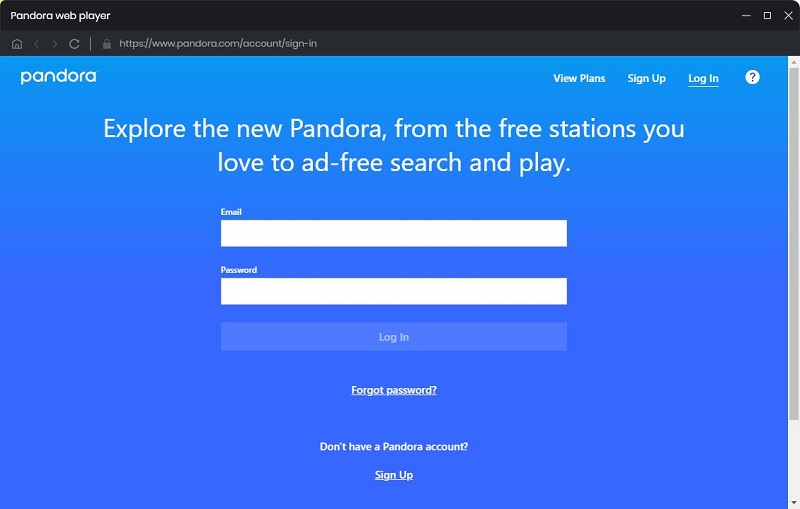 Step 2. Customize Output Settings
Go to the Settings tab in the upper right corner. Here you can customize Output Format, Audio Quality (bit rate & sample rate), Output Folder, and other output parameters. Little tips, you can select "AUTO" under output format to get the best audio quality.
What's more, you can choose "Playlist Index" on the output file name setting, so Macsome will save the same music order as the original playlist. You can also select Playlist, Playlist/Artist, or Playlist/Album from the Output Organized item to sort the downloaded playlists.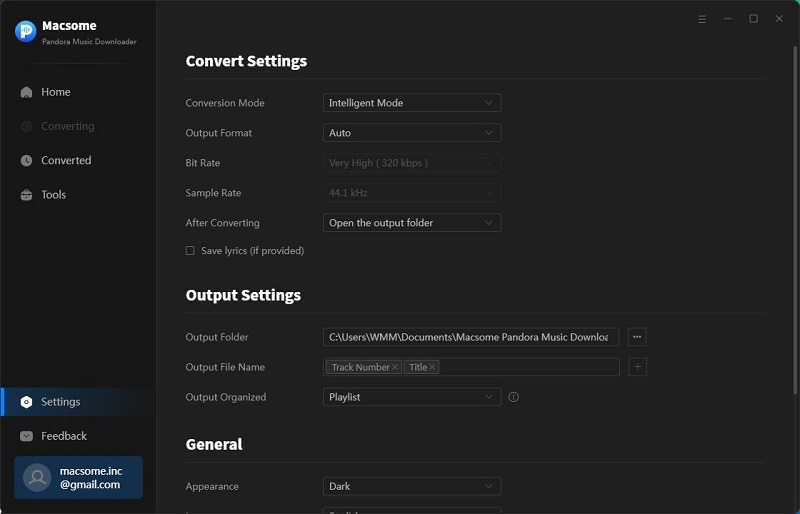 Step 3. Add Playlists from Pandora to Macsome
Simply select a playlist you'd like to download, then click the "Add to list" icon. You'll see that the full playlist is listed there.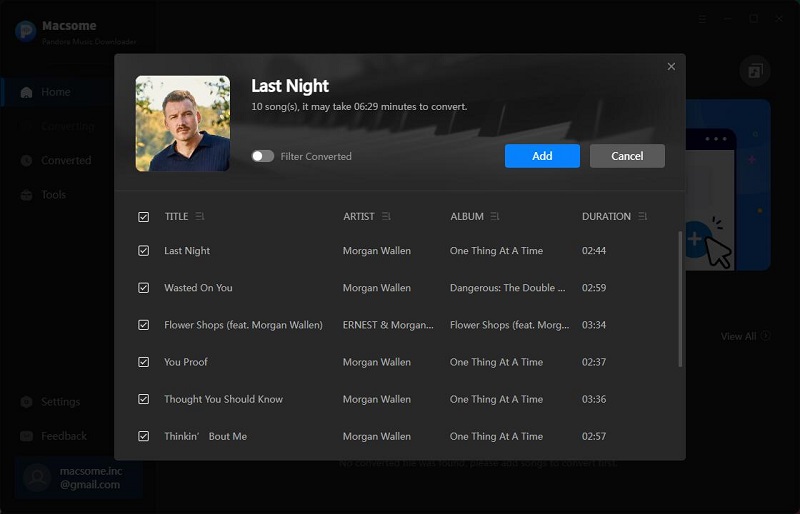 Additional tips: Macsome allows you to download multiple playlists at the same time. Click on the "Save to list" button in the lower-left corner of the window, and the selected tracks will be added to the "Task list". Then you can also add songs from other playlists. Until you've added all songs you want, tap on the "Task list" option in the upper right to check all the songs you want to download simultaneously.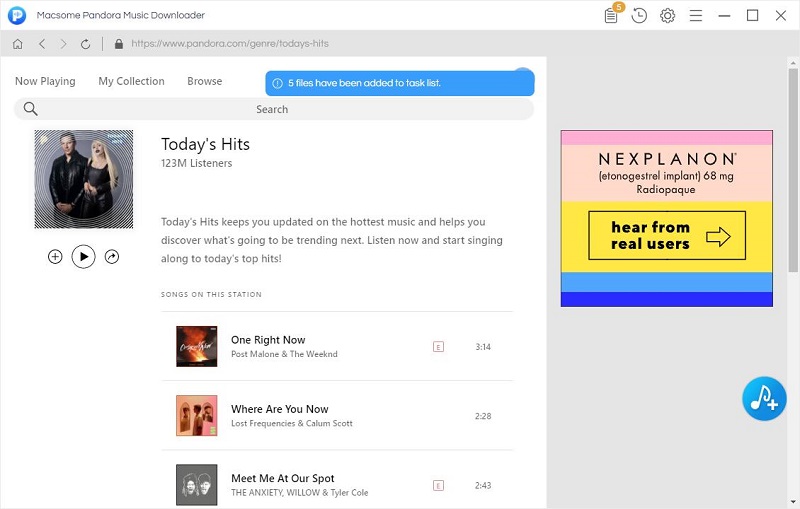 Step 4. Start to Download Pandora Playlists
Now, you can click the "Convert" button to start downloading Pandora playlists without a subscription. Macsome supports the downloading process at a 10x faster speed. It may take several minutes if you have a large number of songs to download. If you toggle on the "Close button should minimize the window" option in the Settings, and click the cross icon to close the window, Macsome can run in the background.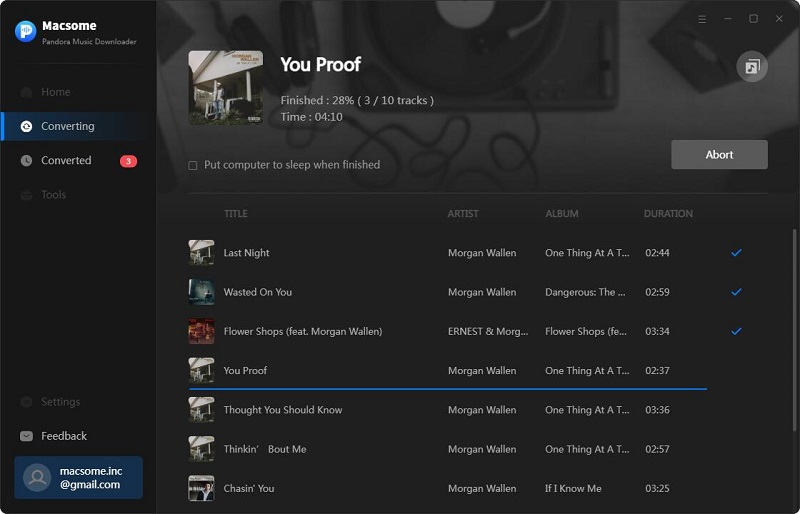 When the conversion is finished, you can find all of your downloads by clicking the "Converted" tab. Click on the "folder" icon to locate the music files on your local computer. Now you could save these downloaded Pandora playlists on computer or mobile devices permanently. You can also import these Pandora songs into Apple Music, Spotify, Windows Media Player, VLC Media Player, etc. for playback without limits.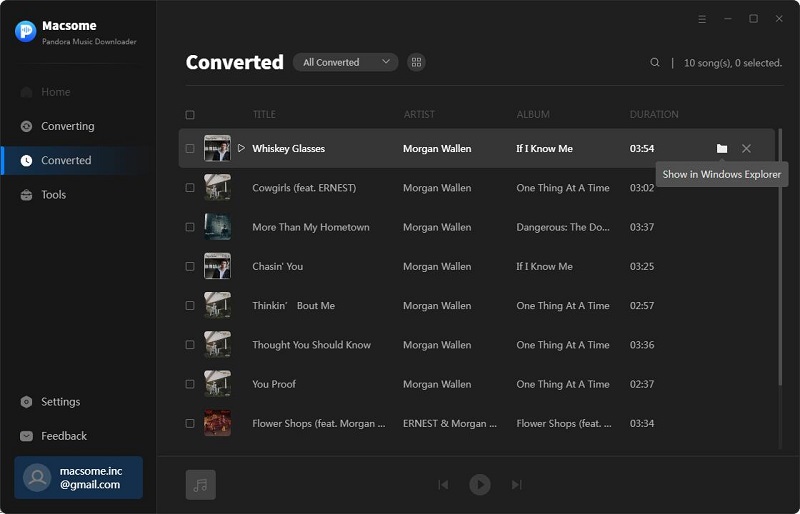 Conclusion
A Pandora playlist allows you to integrate songs or full albums into a personalized list that plays in the order you want. With a Pandora Premium subscription, you are able to create custom Pandora playlists with your favorite songs on the Pandora app or through the Pandora website. Unfortunately, you can't make playlists with a Free Pandora or a Pandora Plus account. Take it easy, Macsome Pandora Music Downloader allows both Pandora free and paid users to download Pandora playlists to the computer easily. In this way, you can still enjoy Pandora songs in a custom playlist made according to your own needs.
Note: The free trial version of the Macsome Pandora Music Downloader allows you to convert one minute of each song. If you want to unlock the time limitation and get the full version, you can choose to purchase a license.