Occasionally listening to a wonderful music song when you surf the Internet with Chrome browser, it is more convenient and easier to record audio than register an account to download it. And how to record audio from Chrome?
Here is the answer. Macsome Audio Recorder is designed for Mac users to record audio from app or system alerts, save audio from the Internet, or record voice from microphone on your Mac. It will help you record any type of audio on your Mac. Macsome Audio Recorder can provide good audio quality with the simply steps.
Step 1: Add Google Chrome application
Click the Add Application button to open the Applications window and choose the Google Chrome.app, and click OK to add it.
Step 2: Load Google Chrome
Click the load icon to load Google Chrome. If the application has already been launched before Macsome Audio Recorder is started, the application needs to be restarted.
Step 3: Customize the output format.
Select Google Chrome and click the Inspector button. Then select Recording tab in the Setting window. Click the Output Format drop-down list and select the format For streaming music.
Step 4: Start the recording
Click the record icon to start the recording. The app Google Chrome will show the state Record On unless audio has been detected.
Step 5: Play the music
Select and play a music on one website like MTV. Then Macsome Audio Recorder will show the Google Chrome starting recording and show the duration / size info when audio has been detected.
Step 6: Get a clip
In the recording process, click the split button to make a clip and to start a new recording for the next music.
Or Click the recording button to finish the recording. And check the recorded file on Record Bin tab.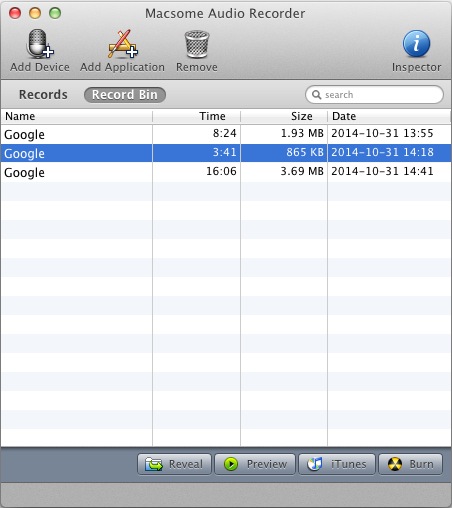 After recording is done, you can also add artwork for the output file, preview the output, add outputs to iTunes library and even burn CDs.
With Macsome Audio Recorder, you can record whatever you are hearing from the Browser or player on Mac. Macsome Audio Recorder can record audio and split audio automatically. It can remove the mute audio with the silence monitor.
Download Macsome Audio Recorder for free: