When you buy a DVD, it's perfectly legal for you to make a copy of it for your own use. This is the gist of the fair use doctrine in copyright law -- there are certain situations that negate copyright protection in favor of the content user, including copying protected material for personal use and copying anything in the public domain for any use. Most digital rights management schemes cannot take fair use into account, because a computer program cannot make subjective decisions.
What is DRM
DRM (also known as Digital Rights Management) is an anti-piracy technology adopted by digital copyright owners to restrict the use of their digital materials and works, including software, movies, music, etc by others. The particular purpose of DRM is to prevent people from accessing, duplicating, and sharing copyrighted digital files in ways that the owners don't like them to. But ironically, DRM, the way to protect the right of copyright owners, actually infringes the users' right on fair use of these digital contents in the mean time.
How it works
A common DRM encryption scheme provides an encryption key that works forever. In this case, the key must be tied to the ID number of the user's machine. The key will only decode the file when it's accessed from the computer it was originally installed on. Otherwise, the user could simply forward the key along with the encrypted software to everyone he knows.
Some products, like those protected by Macrovision SafeCast or Microsoft Product Activation, use a Web-based permission scheme to prevent illegal use of the content.
A less common DRM method is the digital watermark. The FCC is trying to require a "broadcast flag" that lets a digital video recorder know if it's allowed to record a program or not. The flag is a piece of code sent out with a digital video signal.
The provider Macrovision used an interesting approach in one of its recent DVD-protection products. Instead of making a DVD uncopyable, Macrovision RipGuard exploits glitches in DVD ripping software to prevent copying.
Streaming Music Service with DRM
Let us take an example, if Lucy subscribes the online streaming music service, she can listen to, and play and download Lauryn Hill's "Everything is Everything." Her subscription level entitles her to five downloads per month. However she is not allowed to burn "Everything is Everything." to CD, or copy them to her friend and so on.
Its DRM restrictions may prevent you from sharing a copy of the songs downloaded even you have already been a subscriber.
Ways to let Spotify free
The DRM limits users, there is no doubt. How to fully enjoy your streaming music songs, how to record Spotify to enjoy Free?
Spotify Audio Converter supports an ideal solution. With it, the streaming music subscribers just only drag and drop the songs to the program and then you can free enjoy the Spotify songs.
Users can follow the next guide to record Spotify quickly.
First of all, click the next download button to free download the latest version, and double click to install the software.
Windows Version Download Mac Version Download
Second, Launch Macsome Spotify Downloader for Mac. The interface is quite simple and user-friendly. The audio converter application will open automatically at the same time.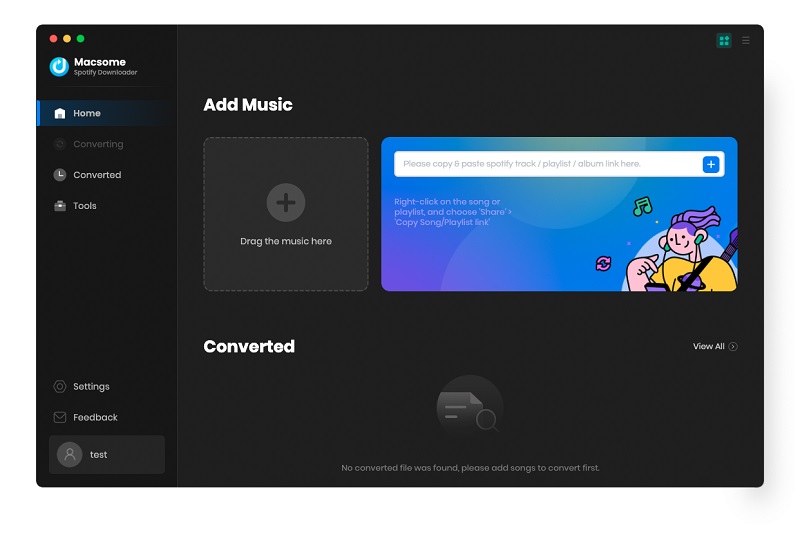 Forth. Click add button or click center of the Spotify Downloader, then you will see a pop-up window which indicates you to drag and drop the songs or playlist here.
To drag your songs in from the library or all the playlist, just open Spotify application, check the songs or playlist you would like to convert, then drag them to add window.
And click the menu bar "Spotify Downloader > Preferences" or directly click setting button on the program interface to open the Preferences window.
Finally. when the above steps are finished, just click "CONVERT" button to start conversion.
Get Spotify Downloader as low as $19.96:
Windows Version Download Mac Version Download