Taylor Swift is an American singer-songwriter. She signed a record deal with Big Machine Records in 2005 and released her eponymous debut album in 2006. Swift wrote three of the album's tracks: "Our Song", "Should've Said No", and "The Outside". The remaining eight were co-written with writers Liz Rose, Robert Ellis Orrall, Brian Maher, and Angelo Petraglia.
There's no doubt that Taylor Swift is one of the world's biggest pop stars. After starting out her career as a country singer, her sound has evolved into full-blown pop princess.
Swift's mixture of country sound and mainstream appeal have helped to consolidate the multi platinum success of her albums. She is best known for her ballads and narrative-style songs about her personal life, which often reference break ups and past relationships.
In the following, it will lists the top 10 best songs of Taylor Swift ever.
Shake It Off (1989, 2014)
Who can help singing along and tapping their toes when Shake It Off comes on the radio? A pop song with an infectious beat and a banging chorus, it's considered Swift's departure from a country and western style to a more dance-pop genera. The song's about people getting under Swift's skin, but not letting them get under her skin.
You Belong with Me (Fearless, 2008)
You Belong With Me was released as a single in 2009, and is from her second studio album, Fearless (2008). Swift was inspired to write the song after hearing one of her male friends arguing with his girlfriend on the phone, after which she developed a more in-depth story line. The song includes many pop music aspects, and is about Swift desiring an out-of-reach love interest.
Love Story (Fearless, 2008)
Love Story is a song about denied love - and was inspired by William Shakespeare's Romeo and Juliet. When she was younger, Swift cared about a man who was never her boyfriend because when she introduced him to her family and friends, they didn't like him. "It's one of the best love stories ever told," she explained, "but it's also a tragedy.
I Knew You Were Trouble (Red, 2012)
I Knew You Were Trouble was released on Swift's fourth album, Red, in 2012 to widespread critical acclaim. The New York Times hailed it as "one of 2012's best pop songs", and many people noted it was the first time she'd experimented with dubstep. The song debuted at number 38 in the Billboard 100 Pop Songs, then went to number 1 in its ninth week.
Back to December (Speak Now, 2010)
Have you ever broken up with a partner then regretted it afterwards, pining to have them back? Taylor Swift has, and the experience formed the inspiration for her pop ballad, Back To December. The track was released on her third studio album Speak Now (2010), and is the first time Swift ever apologises to someone in a song, and has been described as a "true heartbreaker".
Mean (Speak Now, 2010)
If you're a fan of country music, you're in for a treat with Mean. Written and recorded for her third studio album Speak Now, Swift said the song is a response to people who criticise everything that she does, commenting: "There's constructive criticism, there's professional criticism, then there' just being mean." The song was generally positively received by critics, who commented on its popular appeal.
Blank Space (1989, 2014)
Blank Space is an electropop song that many critics have compared to the work of Lorde. It makes fun of Swift's portrayal in the media as a man eater, who just dates for writing material. At one point in the song, she sings: "Darling I'm a nightmare dressed like a daydream," which is representative of the alter-ego she's satirising. In end of year lists, the song was voted sixth best by both Time and Rolling Stone.
Enchanted (Speak Now, 2010)
Enchanted is one of Swift's more old school country tracks, and was released in 2010 on the album Speak Now. The song was written about a guy she was enchanted to meet, and that she was worried what he thought of her. It was only when she got home and read an email from him saying that he was sorry for being so quiet but that he'd been wonder struck by meeting her, that she got the idea for the ballad.
We Are Never Getting Back Together (Red, 2012)
If you've ever felt the jubilation of finally ending a destructive relationship, once and for all, then you'll love this pop ballad. The song features heavy production and pop vocal styling, marking a musical transition for Swift from her country origins. A sassy piece of pop rock with a Katy Perry edge.
22 (Red, 2012)
22 was recorded for Taylor Swift's fourth studio album, Red. Explaining the song, Swift said: "For me, 22 has been the favourite year of my life. I like all the possibilities of how you're still learning, but you know enough." The song, along with several other singles from the album Red, entered the charts in a number of countries, reaching number 9 in the UK charts.
Move Taylor Swift's songs from Apple Music to MP3 player
All the best and classic songs of Taylor Swift you can download or purchase from iTunes Store, you can also stream them from Apple Music, or download them offline. If you want to move them from Apple Music to MP3 player, how to do?
To convert the downloaded Apple music songs to MP3 format quickly, you need to free download and install Macsome iTunes Music Converter, which supports so excellent solution to convert all your iTunes playlist, both music and audiobook files.
Windows Version Download Mac Version Download
Step 1, Open your iTunes Music Converter, click "+" button, and find your whole music album of La La Land. And then select all the audio files and click "OK" button to add them.
Step 2, after you add these music files, now you can click the setting icon to set the output format and output folder.
Except MP3 format, you can also convert these music files to AAC, FLAC, WAV as you like.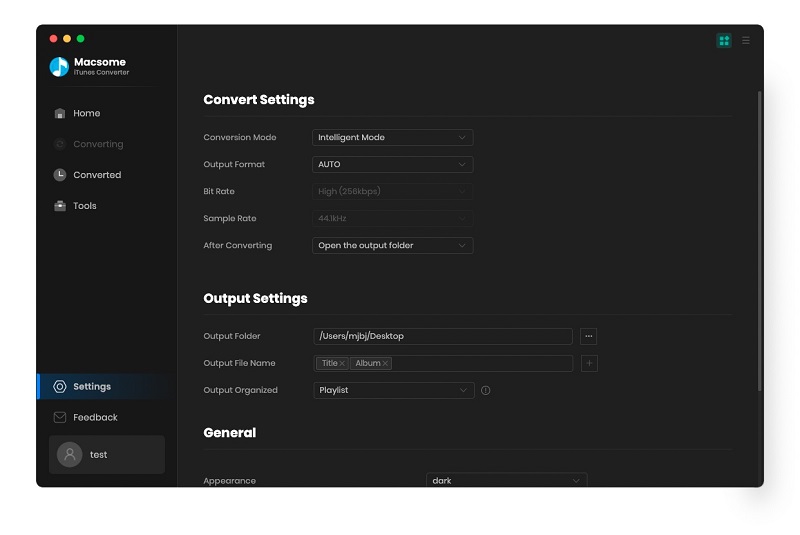 Step 3, After the above steps settings, you can click "CONVERT" button to start.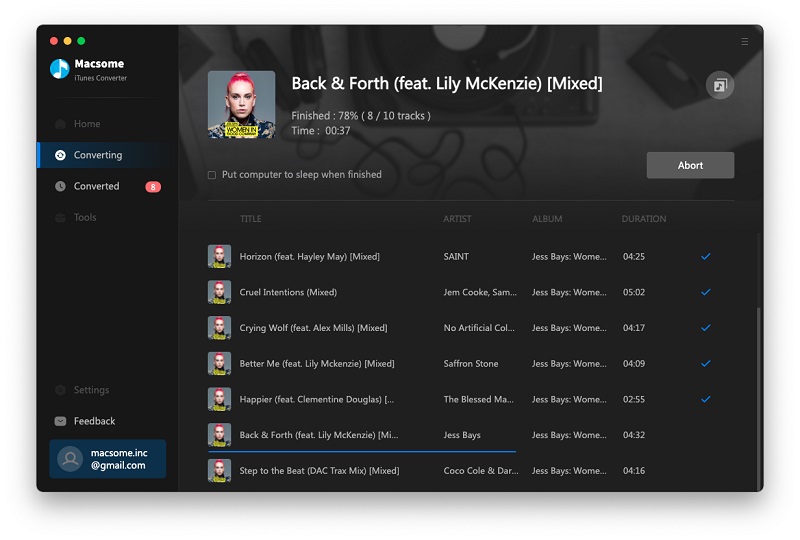 After the conversion, you can open output folder to find the converted music files in the format of MP3, And then you can transfer them to your MP3 player quickly.