Music streaming services such as Spotify and Pandora are more popular than ever. While most people use their smartphones or computers to access such services, smart TVs are slowly, but surely, getting into the music streaming business. The Korea Times reports that Samsung has worked out a deal with Amazon, giving its smart TVs access to Amazon Music.
This partnership makes Samsung's smart TVs among the first third-party products to feature support for Amazon Prime Music. In addition to smart TVs made in 2015 or later, the service will also work on all Samsung audio devices, including wireless speakers.
"Samsung's Smart TVs are designed to bring everything users want into a single, seamless experience — from live television and sports to streamed shows, movies, music, and more," Samsung's Salek Brodsky said. "We're thrilled to be amongst the first to let consumers stream Amazon Music directly from their televisions."
Amazon's music service doesn't have access to the large library that Spotify or Apple Music offers, but it does come with one advantage — the service is free to all Amazon Prime members in the U.S. and U.K. You can upgrade to Unlimited Music for a larger library, but this requires additional fees on top of those needed for a Prime membership. However, Prime members and Echo owners do receive a discount for this service.
As of right now, this deal is limited to the United States, United Kingdom, Germany, Austria, France, Italy and Spain. The reasoning for these limitations aren't known, but Engadget sats it might have to do with the availability of Amazon Music and Unlimited Music. Some countries have access to both services, whereas others only have access to just one of them.
Amazon recently launched Prime Video around the world, however, so if that service proves successful, we may see Amazon's music streaming services offered in additional markets. If so, then we can assume that Samsung's deal will include these new markets, though nothing is certain.
The service is expected to be available sometime this month.
Samsung compatibility aside, there are numerous music streaming services available so if you're unsure of which one is best for you, and don't mind paying a bit extra for it, check out our guide to the best music streaming services.
Macsome Apple Music Converter (Mac / Win)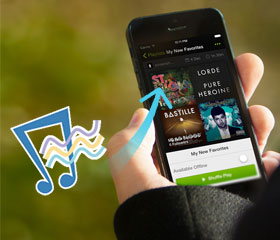 Macsome iTunes Converter (for Mac / Win) is designed to convert downloaded Apple Music files to MP3, AAC, FLAC or WAV with fast conversion speed and high output Quality. After conversion, users can transfer converted music files and play them on these free music player without limitation.
Download Apple Music Converter for free:
Windows Version Download Mac Version Download