iTunes Match
iTunes Match debuted on November 14, 2011. It was initially available to US users only. For an annual fee, customers can scan and match tracks in their iTunes music library, including tracks copied from CDs or other sources, with tracks in the iTunes Store, so customers do not have to repurchase said tracks. Customers may download up to 100,000 tracks in 256 kbit/s DRM-free AAC file format that match tracks in any supported audio file formats in customers' iTunes libraries, including ALAC and MP3. Customers also have the choice to keep their original copies stored on their computers or have them replaced by copies from the iTunes Store.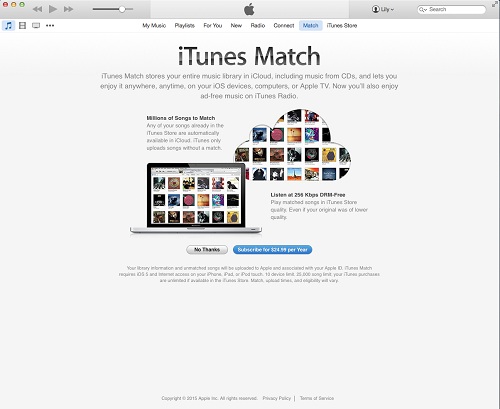 Apple Music
Apple Music is a music streaming service by Apple. Users select music to stream to their device on demand. The service includes the curated Internet radio station Beats 1 and the blog platform Connect for artists to share media with fans. Apple Music provides music recommendations based on user taste and is integrated with Siri voice commands.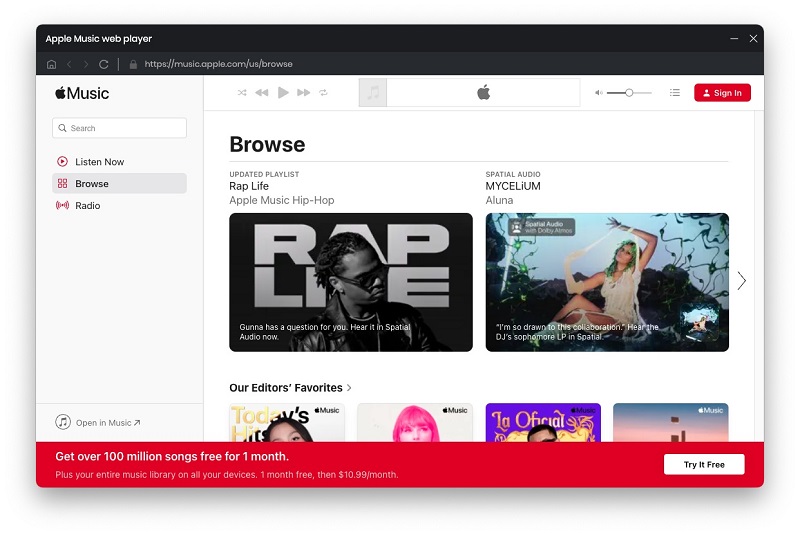 Apple Music is different from iTunes Match
Cost
Subscribe iTunes Match for just $24.99 a year. iTunes Match supports up to 10 devices ?a including your computer, iPhone, iPod touch, iPad, and Apple TV.
Apple Music costs $9.99 monthly, with a $14.99 family plan option for up to six people. With the family plan, you'll need to set up iCloud Family Sharing, if you haven't already.
How it works
iTunes Match: iTunes determines which songs in your collection are available in the iTunes Store. Any music with a match is automatically added to iCloud for you to listen to anytime, on any device. Once your music is in iCloud, you can play it from any of your devices. Just browse the complete list of all your music stored in the cloud and tap to play it. You have immediate access to your music library without having to worry about the storage space on your device. And you can tap the iCloud download button to download music from an artist, album, or playlist to listen to offline.
Apple Music: It works similarly to iTunes Match, the $25-per-year service which stores your music files in the cloud so you can stream them away from your computer. With iCloud Music Library, Apple scans all of the music you've purchased from iTunes or added to iTunes on your computer by ripping a CD, purchasing and downloading from another digital store or obtained from other means.
Who can use?
iTunes Match: Anyone with an Apple ID in the U.S. and select other countries can use iTunes Match. You also need iTunes 10.5.1 or later on your Mac or PC and iOS 5.0.1 or later on your iPhone 3GS or later, iPod touch (3rd generation or later), or iPad.
Apple Music: To get Apple Music, you'll need to update your iOS device to iOS 8.4, which started rolling out on Tuesday June 30. The update changes the earlier Music app that came with your device into the Apple Music app. And during WWDC that over 100 countries would be getting Apple Music.
After you cancel the subscription:
Apple Music: After you cancel an Apple Music subscription, you lose access to your iCloud Music Library along with any streaming songs you may have added, and redownloaded matched songs from your Mac's library. All of them are unable to work. You can manually add tunes to your devices' libraries again via iTunes or re-download your purchased content, but that's it.
iTunes Match: You can keep any matched or uploaded songs that you've downloaded locally to your device?abut you won't be able to download any new songs from the cloud. Your iTunes Match library continues to be stored for 30 days; if you activate Apple Music or re-activate Match, you'll regain access to it. Otherwise, after 30 days, it gets removed from Apple's servers.
How to choose one for yourself?
iTunes Match supports music without DRM, if you don't want DRM-locked streaming music, iTunes Match makes sense as a complementary option to Apple Music.
And if you don't want Apple Music streaming at all, iTunes Match gives you access to your purchased and uploaded music on all your devices.
Even you choose Apple Music, don't worry, iTunes Converter can help you totally. It is very economical.
Download iTunes Music Converter for free:
Windows Version Download Mac Version Download