The SanDisk flash MP3 player is a line of flash memory-based digital audio players and portable media players produced by SanDisk (www.sandisk.com). Besides playing music, you can also watch video and photos on SanDisk flash MP3 player. You can even store data on SanDisk flash MP3 player.
The extensive family of SanDisk flash MP3 players includes Sansa View MP3 Players, Sansa Clip MP3 Players, Sansa Connect MP3 Player, Sansa Shaker MP3 Players, Sansa e200 Series MP3 Players, Sansa e200R Rhapsody Series, Sansa c200 Series MP3 Players, SanDisk Sansa Express MP3 Players and SanDisk Sansa m200 Series MP3 Players.
SanDisk flash MP3 player supports AAC, MP3 and WMA audio formats. SanDisk flash MP3 player also supports JPEG pictures and QuickTime movies. SanDisk flash MP3 player users are supposed to purchase music from Rhapsody and other online music stores with Microsoft PlaysForSure certification.
SanDisk Sansa MP3 Player and iTunes Audio files
The Apple iTunes Music Store sells AAC, M4A, M4B, M4P songs and Audible .aa audio book online, accounting for more than 80% of worldwide online digital music sales. The AAC, M4B and M4P songs sold on iTunes Music Store are encrypted with Digital Rights Management measures, while M4A, M4B is for the unprotected content.
SanDisk Sansa MP3 Player can not play iTunes audio book such as DRM .aa, M4B and M4P. Unless the DRM protection is removed, the protected music can not be played on any media player and portable device other than Apple applications such as iTunes and iPod.
Windows Version Download Mac Version Download
Play Audio Books on SanDisk Sansa MP3 Player
What would you do if you want to transfer audio book to your SanDisk Sansa MP3 Player? Macsome AudioBook Converter can help you out. As a fastest audio book to MP3 converter, it is being downloaded and used to convert Auible .aa to mp3 and unprotected AAC for SanDisk Sansa MP3 Player world-widely.
Macsome AudioBook Converter converts any DRM protected and unprotected music to unprotected MP3, M4B(AAC) formats. For the solution to convert Audible audio book for SanDisk Sansa MP3 Players, it will convert iTunes AA, AAC, M4P, M4A and M4B audio files to MP3 and unprotected AAC.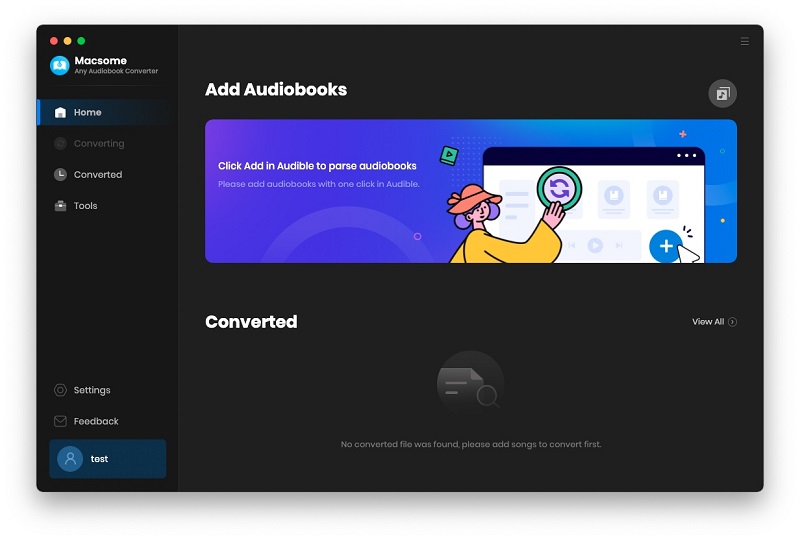 Macsome AudioBook Converter doesn't need any extra hardware or virtual drive such as virtual CDRW, ect. It helps you play your audio books background in 5X speed, recording & encoding to MP3 or M4B while playing. It can repeat this audio converting procedure until all the audio books you selected has been converted.
Download AudioBook Converter for free:
Windows Version Download Mac Version Download